Andreucci triumphs on Targa Florio
Paolo Andreucci has clinched the Targa Florio Rally in Sicily for the seventh time, having been reunited with his ultra-successful Peugeot 207 S2000 for the occasion, running as always on Pirelli tyres. It was another successful outing for Andreucci, who led from the second stage after spinning on a slippery opening test, as Peugeot Italia has now reinforced its lead of the manufacturers' championship with one round to go in Sanremo the week after next. Pirelli locked out the podium and claimed all the classes on the Sicilian classic. Recently-crowned Italian Rally Champion Umberto Scandola finished as runner-up for Skoda Italia, 45 seconds behind Andreucci, while local man Toto Riolo was an excellent third in another Peugeot 207 S2000. Completing Pirelli's domination in Sicily was fourth place for up and coming youngster Stefano Albertini, also driving a Racing Lions Peugeot. Andreucci and Scandola shared the stage wins between them: Andreucci taking eight and Scandola claiming the remaining four.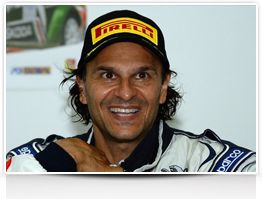 "This rally has been a real pleasure from start to finish; we knew what we had to do when we came here and we were able to achieve that," said Andreucci, whose Peugeot wore a special red and yellow livery in homage to the Sicilian flag. "The team made sure that we had a serene weekend and the tyres were both fast and reliable, as has been the case all year, despite the fact that the grip on these stages was extremely variable. Driving in front of such a passionate and enthusiastic local crowd is always a special feeling, particularly when you know that the car and the tyres give you a proven winning package." The Targa Florio celebrated its 97th anniversary this year. The Pirelli drivers used the RX5C tyres to the Targa Florio, with the softer RX7A compound also be used on some of the more slippery stages. The RX family of tyres is among the most versatile in Pirelli's competition range thanks to a lightly grooved tread pattern, a square profile and a particularly rigid structure. These characteristics help steering precision and provide a rapid response, while maintaining the strength and durability to cope with prolonged high speeds and longer stages. Andrea Nucita, co-driven by Giuseppe Princiotto, won this year's Production Car championship in his Citroen DS3 R3T equipped by Pirelli. This is Nucita's second consecutive title, having won the junior championship as well last year. "Thanks to everybody's hard work, including Pirelli, we were able to fight against a competitive field of very high quality," concluded the 22-year-old, who also had to battle against an attack of flu last weekend, en route to sixth overall. Pirelli's product manager Terenzio Testoni commented: "Congratulations to Paolo for another extremely well-deserved victory in Sicily. The conditions were just as challenging as we expected, with the stages made very slippery by the sea air near the coast, and levels of grip that are consequently extremely hard to judge. We also experienced high ambient temperatures, which were uncomfortable for the drivers in their cars. Our tyre selection for this event certainly proved to be the right one and this is clear to see in the results of the rally, where Pirelli dominated once more in every category. Our success on every different type of asphalt and gravel surface this year underlines just why Pirelli is the world leader when it comes to ultra high performance, even in the most challenging conditions." The final round of the Italian Rally Championship is the famous Sanremo Rally, which takes place in Liguria from October 10-12. Sanremo also counts towards the FIA European Rally Championship.
***
For further information on Pirelli, please contact Anthony Peacock on anthony@mediaticaworld.com or +44 7765 896 930.