Angel GT for the Ducati Multistrada 1200 S GT
Pirelli Angel GT tyres made their debut last September in Bilbao when Ducati premiered its latest offering: the Multistrada 1200 S Granturismo on which they are the original equipment fitment in sizes 190/55 R17 for rear and 120/70 R17 for front. Angel GT is the epitome of Pirelli's DNA in terms of performance, this being high throughout the life of the tyre, whilst also offering exceptional mileage, exceeding that of the Angel ST by at least 15%. Pirelli's trademark sporting characteristics are also there along with first-rate performance in the wet.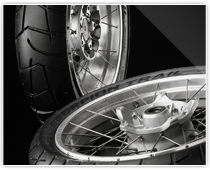 Angel GT is a two-compound tyre whose centre employs a compound designed to provide high mileage, whilst the shoulders contain a large percentage of silica to ensure exceptional performance even in the wet. The outstanding mileage is also due to brand new profiles that have been completely redesigned in order to work in close harmony with the structure and build materials. The Angel GT has two structures: one is standard for less powerful off-road motorcycles; the other is radial featuring a steel belt with 0° belt angle that is ideal for the power of modern Enduro touring machines.
The front's steel belt with 0° belt angle provides full control and precision when cornering even in the harshest conditions. The arrangement of the steel belt around the profile is thicker closer to the shoulder and lighter towards the centre, offering complete stability in the straight at high speed and great precision when cornering. The rear compound contains a large percentage of silica capable of providing good grip in the wet and the possibility of performing fast warm-ups without sacrificing traction on wet and humid roads and in a wide range of weather conditions. Angel GT is ideal for motorcyclists travelling long distances with a passenger and fully-loaded bike or those who use their bike in all weathers, including for getting to and from work. This is regardless of the type of machine that can be a touring, street enduro, naked or sport bike.