Bentley wins tough Paul Ricard 1000-kilometre race on P Zero DHD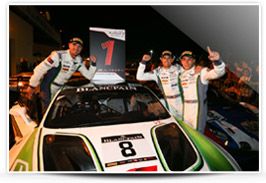 Soulet, Soucek and Abril celebrate victory
The latest round of the Blancpain GT Series presented a busy itinerary with both qualifying and racing on Saturday. Qualifying was from 10:00-11:00, with Yelmer Buurman putting Mercedes-AMG Team Black Falcon on pole by just 0.031s, while the six-hour race took place between 18:00 and midnight. Qualifying was held in consistently warm conditions of over 30 degrees centigrade, while track and air temperatures progressively fell during the actual race, meaning that teams and drivers had to adjust to a changing circuit. After a race of attrition, the Bentley driven by Vincent Abril, Andy Soucek and Maxime Soulet triumphed, sealing the win at Paul Ricard after 170 laps.
Quotes:
Matteo Braga (Pirelli circuit activity manager):
"With five manufacturers in the top five places, this proved the versatility of the product, which not only worked well on a wide variety of cars but also in a wide variety of conditions, with track temperatures and grip fluctuating as night set in. The race was extremely tough but the tyres stood up extremely well to the challenge, with the closeness of the competition proved by the tiny margins in qualifying and the lead changing hands several times. This was also a great opportunity also for the teams to go through the different requirements of racing at night as well as during the day ahead of the Spa 24 Hours."
Maxime Soulet (Number 8 Bentley Continental GT3):
"We really waited a long time for this. The car was unbelievable all weekend long; we had a good start and a clean race. They told me over the radio that the Black Falcon Mercedes could possibly double stint its tyres, so it was still a bit tense for a moment. The last five laps I was listening to everything, everybody was retiring and I was just thinking 'not us'."
Fact of the day:
Paul Ricard will return to host Formula 1 in 2018, which like the Blancpain GT Series is exclusively supplied by Pirelli. The race is now due to take place in less than year, with the French Grand Prix scheduled for June 24. Bentley, the winners at the Paul Ricard 1000 kilometres, has only ever finished second at the French Grand Prix, courtesy of Sir Henry Birkin back in 1930. Its track record at another famous French endurance race – Le Mans – is somewhat better, with six wins.
Number of the day:
Six. This year's race was Pirelli's sixth visit to Paul Ricard as part of the Blancpain series, with the first race there held in 2012. On that occasion, the winners were Audi, who would go on to become champions at the end of the year.
***
Follow us on Twitter @pirellisport or Facebook: Pirelli Motorsport. Please also visit the Pirelli website for more information on the company:
www.pirelli.com
.
For further information please contact:
Francescopaolo Tarallo • +39 334 684 4307 •
francescopaolo.tarallo@pirelli.com
(Head of Product and Motorsport Communication) Carla Corbet • +44 7584 037 687 •
carla@mediaticaworld.com
Maria Stella Narciso • +39 338 942 3585 •
mariastella.narciso@pirelli.com