Brazilian double for Pirelli Scorpion MX
Round seven provides fertile hunting ground for Herlings and Cairoli
Beto Carrero (Brazil), 20 May 2013 ­– The FIM Motocross World Championship is approaching the halfway stage and the Pirelli Scorpion MX still continues to dominate. On this occasion victory was celebrated at the Grand Prix of Brazil thanks to Antonio Cairoli and Jeffrey Herlings, in front of more than 40,000 spectators over two days at the circuit located next to a popular theme park. The narrow and twisty track was surrounded by grandstands and the red dirt was softened by rainfall during Saturday night that saw most Pirelli riders opt for a tyre combination of Scorpion MidSoft 32F front and Scorpion MidSoft 32 rear with the exception of the factory Suzuki duo that chose dimensions of 120/80-19 on the rear and 110/90-19 for the front end in the search for the best traction on the slimy surface.
Antonio Cairoli returned to the top step of the MX1 podium in Brazil after a gap of two years, by winning the first MX1 moto and then the Superfinal for his third double of the season. The rostrum was rounded off by other Pirelli riders Clement Desalle and Kevin Strijbos who both fill third and fifth positions in the championship standings respectively.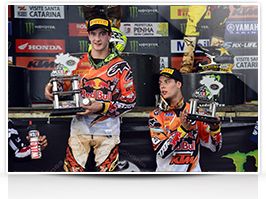 Success was also enjoyed in MX2 as leader and world champion Jeffrey Herlings continued his undefeated Grand Prix streak, although a crash in the Superfinal saw Jose Butron beat the Dutchman for the first time in 2013. On the podium was team-mate Jordi Tixier with third position and ahead of another Dutchman Glenn Coldenhoff who is now closing-in on third place in the standings. At Beto Carrero the Pirelli Racing Service benefitted from excellent support by Pirelli Brazil that seamlessly integrated with the Grand Prix operation headed by Giovanni Gatti. After a fortnight break the FIM Motocross World Championship will reconvene on June 9th at Ernee for the Grand Prix of France.
Grand Prix of Brazil, Beto Carrero circuit: Temperature 24°, Humidity 64% MX1 overall classification:
| | | | | |
| --- | --- | --- | --- | --- |
| 1. | Antonio Cairoli | KTM | Team Red Bull Factory | |
| 2. | Clement Desalle | Suzuki | Team Rockstar | |
| 3. | Kevin Strijbos | Suzuki | Team Rockstar | |
| 4. | Max Nagl | Honda | Team World Motocross | |
| 5. | Paulin Gautier | Kawasaki | Kawasaki Racing Team | |
MX1 Championship standings (after 7 rounds):
| | | | | |
| --- | --- | --- | --- | --- |
| 1. | Antonio Cairoli | KTM | p. 330 | |
| 2. | Gautier Paulin | Kawasaki | p. 278 | |
| 3. | Clement Desalle | Suzuki | p. 267 | |
| 4. | Ken De Dycker | KTM | p. 245 | |
| 5. | Kevin Strijbos | Suzuki | p. 220 | |
MX2 overall classification:
| | | | | |
| --- | --- | --- | --- | --- |
| 1. | Jeffrey Herlings | KTM | Team Red Bull Factory | |
| 2. | José Butron | KTM | Team KTM Silver Action | |
| 3. | Jordi Tixier | KTM | Team Red Bull Factory | |
| 4. | Glen Coldenhoff | KTM | Team Standing Construct | |
| 5. | Dean Ferris | Yamaha | Team Monster Energy | |
MX2 Championship standings (after 7 rounds):
| | | | | |
| --- | --- | --- | --- | --- |
| 1. | Paulin Gautier | KTM | p. 347 | |
| 2. | Jordi Tixier | KTM | p. 257 | |
| 3. | José Butron | KTM | p. 218 | |
| 4. | Glenn Coldenhoff | KTM | p. 214 | |
| 5. | Christophe Charlier | Yamaha | p. 198 | |