Global superstar to contest Rally of Spain with Pirelli
One of the biggest stars in world motorsport will tackle the 50th Rally of Spain this weekend with Pirelli: a personality whose fame is such that his YouTube videos attract in excess of 50 million views. American extreme sports ace Ken Block is competing on the World Rally Championship for the first and only time this year in Spain, driving a Ford Fiesta RS WRC equipped with the latest tyres from Pirelli. Pirelli's products have also appeared on Block's renowned 'Gymkhana' videos recently, which attract huge publicity thanks to the Californian's unique showmanship that highlights extreme driving in unusual locations.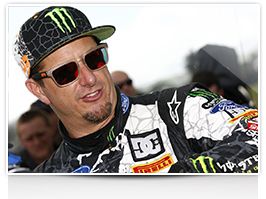 Block returns to WRC competition with Pirelli
Block has competed on the World Rally Championship with Pirelli before, but this will be his first outing on the Italian rubber since the 2010 Rally Great Britain. In another first, Czech driver Martin Prokop will also be having his debut taste of competition using Pirelli tyres, again in a Ford Fiesta RS WRC. The former Junior World Rally Champion, who won his title with Pirelli in 2009, will now use Pirelli tyres for the rest of the season.
The Rally of Spain is unique on the WRC calendar in having both gravel and asphalt stages on the itinerary. After a first full day on gravel, following a ceremonial start and superspecial on Thursday night in Barcelona, the event moves to asphalt for Saturday and Sunday's stages. This means that both Pirelli's Scorpion gravel tyres and P Zero asphalt tyres will be used on the same event for the first time this year. Initial weather forecasts suggest a largely dry three days in the area around Rally HQ in Salou, Catalunya.
Leading Pirelli drivers in Spain
Ken Block is the leading Pirelli entry, while Pirelli's WRC2 championship leader, Lorenzo Bertelli, will also be competing in Spain. The full list of Pirelli crews contesting the Rally of Spain is: 15 Ken Block/Alex Gelsomino (Ford Fiesta RS WRC) 21 Martin Prokop/Jan Tomanek (Ford Fiesta RS WRC) 36 Bernardo Sousa/Hugo Magalhaes (Ford Fiesta RRC) 37 Lorenzo Bertelli/Mitia Dotta (Ford Fiesta R5) 38 Valeriy Gorban/Korsia Volodymyr (Mini John Cooper S2000) 43 Julien Maurin/Nicolas Klinger (Ford Fiesta R5) 50 Johan Heloise/Roberto Mometti (Subaru Impreza WRX) 75 Josep Membrado/Jordi Vilamala (Mitsubishi Lancer Evo X)
The tyres available
Just as was the case for France, Pirelli will supply its latest generation P Zero RK tyres for the two days of asphalt in the Rally of Spain, which makes up the bulk of the action. The hard compound RK5A will be used in warm and dry conditions with the soft compound RKW7 available if it's cold and damp. In case of extreme wet weather, the WRC1 cars only are allowed to use the Sottozero full wet. For gravel stages, Pirelli will bring the reinforced Scorpion K4 hard compound, as well as the reinforced K8 soft compound. Thursday night's asphalt superspecial in Barcelona will use gravel tyres. At the final service halt on Friday night, the cars will all be switched from gravel to asphalt specification.
The rules
A maximum of 30 tyres, including four for shakedown, can be used by Priority 1 and 2 drivers for the duration of the rally, which totals 17 stages. This allocation is made up of 12 gravel tyres (for Thursday and Friday) plus 18 asphalt tyres (for Saturday and Sunday). At their disposal for the gravel stages, each driver has eight K4 hard tyres (plus four for the shakedown) and eight K8 soft tyres. For the asphalt stages, each driver has at their disposal 18 RK5A, 14 RKW7 and eight Sottozero full wet (for WRC1 drivers only).
Quotes
Matteo Braga
, Pirelli senior tyre engineer:
"We're absolutely delighted to have Ken with us in Spain, who is not only a fantastic driver but a brilliant ambassador for the sport and for Pirelli. Despite the fact that his many other commitments do not leave him with much time for the World Rally Championship, he has shown himself to be capable of points-scoring finishes in the past and we are delighted that he has chosen our tyres to help him try and achieve this once more. Spain is one of the most complicated events of the year from our perspective as not only does it contain both asphalt and gravel stages, but also a very long 50-kilometre test on asphalt to celebrate the 50th running of the event. This means that every aspect of tyre performance is thoroughly tested."
Ken Block
:
"This is the only race on the World Rally Championship calendar with both tarmac and gravel stages, so I've put down some testing miles in both of these cars to be ready for WRC Spain. Both set-ups are very fun, in very different ways. I'm stoked that I get to race on both of those surfaces this week!"
***
For more information about Pirelli, please contact Anthony Peacock on +44 7765 896 930 or anthony@mediaticaworld.com