Great performance by Pirelli at the 24 Hours of Spa
On the last weekend in July, Pirelli was involved in a record-breaking logistics operation during the 24 Hours of Spa in front of around 60,000 spectators. Flagship of the Blancpain Endurance Series, the Spa-Francorchamps circuit in Belgium is the championship's longest race and called for 8,552 tyres that were taken to the venue by a convoy of 19 trucks. The fitting service provided an average of one tyre every 26 seconds (over a period of 22 hours). The penultimate round of the competition's five endurance races featured racing versions of current production supercars on the epic track with ups and downs, hard acceleration and unpredictable weather conditions. A real driver's training ground, where tyres can make the difference if you are to tame the 7,400 metres that twist through the Ardennes, Pirelli provided everyone with wet and slick versions of the same P Zero™ tyres already used throughout the year in the Blancpain Endurance Series. Despite the vast range of configurations of the cars taking part, the Pirelli tyres can ensured that every competitor enjoyed optimum performance. The light rain that fell during the night meant that the teams had to use the full range of tyres that Pirelli brought to Spa, proving effective and reliable on one of the world's most difficult circuits.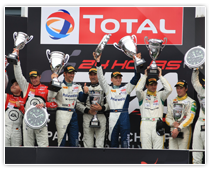 At Spa, Mercedes recorded its first victory in the Belgian classic since 1964, thanks to the HTP team formed by Bernd Schneider and race debutants Maximilian Buhk and Maximilian Götz who finished a lap clear of the Manthey team (Lieb, Lietz and Pilet) in a Porsche 911 GT3.