Official test day at Portimão for the riders of the eni FIM Superbike World Championship: there are thirteen new solutions brought by Pirelli to test
Following yesterday races, the Portuguese circuit is now home to the third day of seasonal tests that involve the riders of the Superbike class. For them the Italian tyre company brought five new front and eight new rear solutions to compare against the reference tyres of the current season
Pirelli DIABLO Superbike
Today the Autódromo Internacional do Algarve, after having hosted the last weekend the seventh round of the
eni FIM Superbike World Championship
, is the proving ground for the official tests that involve all the riders of the Superbike class. This is the third official test day of the four planned for the 2015 season: the first two days took place before the start of the Championship at the Australian circuit of Phillip Island, while the last day of testing will be on the Monday following the Jerez de la Frontera round in September. For today's tests, with a four-hour morning session and three-hours in the afternoon, Pirelli has brought thirteen new solutions to test for the riders, five front and eight rear. In particular, the teams most involved are those indicated by each motorcycle manufacturer participant in the championship as its tyre development team, which are: Kawasaki Racing Team, Aruba.it Racing-Ducati SBK Team, Aprilia Racing Team - Red Devils, PATA Honda World Superbike Team, BMW Motorrad Italia SBK Team, MV Agusta Reparto Corse and VOLTCOM Crescent Suzuki. As regards the
front,
with these five new solutions Pirelli has concentrated its efforts on improving the features of the two standard compounds, the SC1 and the SC2. Specifically, the work that the tyre company is doing on the SC1 is to try to further improve stability by limiting any signs of movement with hot temperatures, while development solutions that involve more closely the SC2 go in the direction of increasing the grip.
Pirelli working area
The approach used for the eight solutions designed for the rear was different. Pirelli engineers have worked particularly with the aim of improving the performance offered at high temperatures by the solutions currently in use in the Championship, on the other side trying to improve the grip offered by the SC1 T1392 in order to extend the spectrum of use of the medium hardness rear compounds.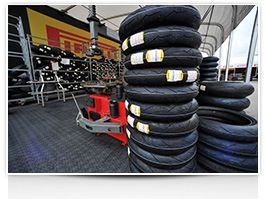 Pirelli working area
"For these tests we took a rather important quantity of solutions,"
said the
Motorcycle Racing Activities Director of Pirelli Giorgio Barbier
,
"though we are aware that not all riders can try them all because some of the riders have to work on the development of the bike for the championship. The test days are still very important for us because they provide us with data with respect to the development work we are doing. The starting point is already very good, because we have a solid racing tyre range and therefore appeal to both professional and amateurs riders all over the world. Of course we still want to improve our tyres to make them year after year yet more efficient working on those aspects of improvement of each standard solution. That's why at the front we focused in developing solutions that enhance the stability of the SC1, already high perfoming in terms of grip, and others that increase the grip offered by the SC2, which instead is more stable and offers more support to the front. For the rear the development activity has focused mainly on improving the performance in conditions of high temperatures that are typically found on circuits like Phillip Island and on giving the SC1 greater grip. The tests are proceeding very well and some new tyres tested today will be definitely made available to riders in the coming rounds, in some cases as early as that of Misano Adriatico that awaits us in less than two weeks".