On a Kawasaki fitted with Pirelli Diablo Superbike SC0 tyres on the rear and SC2 on the front Tom Sykes takes a double win at Imola breaking the record for both the track fast lap and the race fast la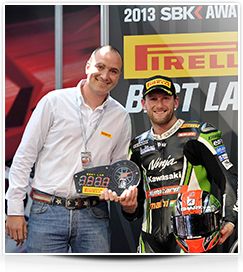 I nuovi Diablo Superbike da 17 pollici in mescola morbida SC0 continuano ad essere l'opzione preferita per il posteriore dai piloti schierati in griglia nella classe Superbike. In una domenica caratterizzata da temperature dell'asfalto piuttosto elevate comprese tra i 46° e i 54° gradi, i nuovi pneumatici in mescola morbida di gamma, e quindi attualmente in commercio ed acquistabili da tutti i motociclisti che volessero divertirsi in pista, hanno dimostrato ancora una volta le loro ottime qualità in termini prestazionali contribuendo allo spettacolo offerto dai piloti nel weekend di Imola. Quello di Imola è stato sicuramente un weekend colorato di verde dal momento che la casa di Akashi ha calato un tris ottenendo una stupenda doppietta con Tom Sykes e il Kawasaki Racing Team nella classe regina, il gradino alto del podio nella Supersport con Kenan Sofuoglu e il MAHI Racing Team India e nella Superstock 600 con Alessandro Nocco su Kawasaki ZX-6R del San Carlo Team Italia mancando il podio solo nella Superstock 1000 dove a vincere è stato Sylvain Barrier del team BMW Motorrad GoldBet STK. Tom Sykes è stato indubbiamente il mattatore del weekend dal momento che non si è limitato a vincere entrambe le gare ma ha anche realizzato il giro veloce in entrambe le gare vincendo entrambi i Pirelli Best Lap Award in palio e, soprattutto, infrangendo il record della pista assoluto durante l'ultima fase della Superpole del sabato, utilizzando lo stesso pneumatico in mescola SC0 utilizzato dai piloti anche in gara, e il record del giro veloce di gara in gara 1.
Nella classe Superbike protagonisti del weekend emiliano sono stati anche Davide Giugliano (Althea Racing) che ha ottenuto il secondo gradino del podio in gara 1 ma non ha potuto replicare in gara 2 per via di una caduta, Eugene Laverty (Aprilia Racing Team) terzo in gara 1 ma anch'egli fermato da una caduta in gara 2 e poi Jonathan Rea (Pata Honda World Superbike) e Sylvain Guintoli (Aprilia Racing Team) rispettivamente secondo e terzo in gara 2. Con la doppietta ottenuta Tom Sykes diventa il nuovo leader della classifica generale con 235 punti superando il francese Sylvain Guintoli a quota 229, tallonato a distanza dal compagno di squadra Eugene Laverty a 190 punti e Marco Melandri a 182. Anche in Supersport la scelta della grande maggioranza dei piloti per il posteriore è ricaduta sulla mescola morbida SC0 di sviluppo, mentre all'anteriore l'unanimità ha scelto la SC1 di gamma in mescola morbida. Una gara molto combattuta ha visto trionfare il pilota turco su Kawasaki seguito da Sam Lowes e da Vladimir Leonov, entrambi sulla Yamaha YZF R6 del team Yakhnich Motorsport. Il pilota inglese del team russo guida la classifica con 140 punti seguito dal vincitore di giornata Kenan Sofuoglu con 106 e da Fabien Foret con 85.
Nella classi minori Superstock il podio è stato completato da Niccolò Canepa (Barni Racing Team) e da Ondrej Jezek (SK Energy - Fany Gastro), rispettivamente secondo e terzo nella classe 1000, e da Franco Morbidelli (San Carlo Team Italia) e Christian Gamarino (Team Goeleven) nella 600.
Le soluzioni Pirelli scelte dai piloti: Dopo essere stata utilizzata a Monza, Donington e Portimão la soluzione di gamma SC0 (R1261) del nuovo Diablo Superbike da 17 pollici è stata scelta all'unanimità per gommare il posteriore in entrambe le gare anche dai piloti Superbike schierati in griglia. La soluzione morbida di gamma, che ha esordito a Monza nella specifica con fascia centrale rinforzata, si conferma tendenzialmente come la soluzione di gara quando le temperature dell'asfalto sono superiori ai 25 gradi. Ideale per affrontare asfalti lisci e temperature elevate, offre massima improntabilità su asfalti lisci e massimo sviluppo di trazione alle alte temperature oltre ad un'elevata stabilità al decadimento termico delle prestazioni. Per l'anteriore circa 2/3 dei piloti ha invece optato per la SC2 di gamma (R982), soluzione in mescola media ottimale per temperature esterne elevate perché garantisce solidità e compattezza alla fascia battistrada. I restanti 5/6 piloti, tra cui quelli del team BMW Motorrad GoldBet SBK, hanno invece scelto la SC1 di gamma R426 in mescola morbida che massimizza l'impronta a terra e la "presenza" dell'anteriore.
Nella classe Supersport il Diablo Supercorsa SC0 nella specifica S510, già visto in azione a Monza e Portimão, è stato la soluzione più utilizzata per il posteriore, all'anteriore invece protagonista indiscusso è stato ancora una volta il Diablo Supercorsa SC1 di gamma (P1177) scelto da tutti i piloti.
Pirelli Best Lap Award: I Pirelli Best Lap Award, i premi che vengono assegnati ai piloti che nelle gare di Superbike e Supersport realizzano il giro più veloce, sono stati consegnati dal Marketing Manager Italia Luca Zaccomer e dal Product Manager Italia Davide Gerosa nel Paddock Show durante la conferenza stampa che segue il podio al termine di gara 1 e gara 2 Superbike e della gara di Supersport. Il pilota di Superbike e Supersport che al termine della stagione avrà totalizzato il maggior numero di "Pirelli Best Lap Award" sarà eletto "Best Lap Winner: pilota più veloce dell'anno" e verrà premiato nel corso della cerimonia di fine anno. Al momento la classifica Superbike è guidata da Tom Sykes con 7 successi, in Supersport Sam Lowes è il leader con 3 Best Lap Award vinti. Questi i piloti che si sono aggiudicati i Pirelli Best Lap Award nel settimo round stagionale: WSB Gara 1 – Tom Sykes (Kawasaki Racing Team), 1'47.274 (13° giro) WSB Gara 2 – Tom Sykes (Kawasaki Racing Team), 1'47.507 (3° giro) WSS – Sam Lowes (Yakhnich Motorsport): 1'51.607 (11° giro) Di seguito la classifica generale dopo i primi sette round: WSB: Tom Sykes (Kawasaki Racing Team): 7; Eugene Laverty (Aprilia Racing Team): 3; Michel Fabrizio (Red Devils Roma): 1; Chaz Davies (BMW Motorrad GoldBet SBK): 1; Marco Melandri (BMW Motorrad GoldBet SBK): 1; Jonathan Rea (Pata Honda World Superbike): 1 WSS: Sam Lowes (Yakhnich Motorsport): 3; Kenan Sofuoglu (MAHI Racing Team India): 2; Fabien Foret (MAHI Racing Team India): 1; Lorenzo Zanetti (Pata Honda World Supersport): 1 Il commento di Giorgio Barbier, Racing Director Pirelli Moto: "E' stato davvero un weekend perfetto per noi, per i team, per i piloti e per il pubblico accorso a vedere le gare. Come sempre i piloti della Superbike, così come di tutte le classi del Campionato Mondiale eni FIM Superbike, non ci hanno risparmiato spettacolo e divertimento. Come Pirelli siamo particolarmente soddisfatti, innanzitutto perchè abbiamo avuto l'ennesima dimostrazione che gli pneumatici da 17 pollici sviluppati per il 2013 non solo funzionano meglio dei precedenti pneumatici da 16,5 ma stanno permettendo ai piloti di ottenere risultati impensabili fino a qualche tempo fa, basti pensare al giro record del circuito realizzato da Tom Sykes nella Superpole 3 non con la gomma supermorbida da qualifica che solitamente permette di ottenere i tempi migliori bensì con la SC0 di gamma utilizzata anche in gara. Un complimento doveroso va quindi fatto sicuramente a Tom ma in generale a tutti i team Kawasaki che hanno praticamente monopolizzando i podi del weekend. Come già successo lo scorso anno, le moto della casa di Akashi occuperanno la parte alta delle classifiche dando del filo da torcere in particolare ad Aprilia e BMW che sono comunque sempre molto competitive. Molto piacevoli anche le gare delle classi minori e quella della Coppa delle Nazioni, credo che sia il pubblico che ci ha seguito da casa sia i molti appassionati presenti in circuito abbiano passato un entusiasmante weekend motoristico. Ora siamo al giro di boa del Campionato, non resta che vedere come andranno le prossime gare ma sono certo che, nel rispetto della filosofia che ha sempre caratterizzato il mondiale delle derivate di serie, non mancheranno colpi di scena e momenti di grande spettacolo. Il weekend per noi si concluderà domani con i test ufficiali durante i quali i piloti potranno provare diverse soluzioni posteriori in mescola morbida che potrebbero rivelarsi importanti in futuro, in particolar modo su circuiti particolarmente provanti come quello di Phillip Island." Le statistiche 2013 Pirelli del round di Imola: • Numero totale di pneumatici portati da Pirelli: 4894 • Numero di soluzioni (asciutto, intermedio e bagnato) per la classe Superbike: 5 anteriori e 6 posteriori • Numero di soluzioni per la classe Supersport (asciutto, intermedia e bagnato): 4 anteriori e 5 posteriori • Numero di pneumatici a disposizione di ogni pilota Superbike: 33 anteriori e 40 posteriori • Numero di pneumatici a disposizione di ogni pilota Supersport: 24 anteriori e 27 posteriori • Temperatura in Gara 1: aria 25° C, asfalto 46° C • Temperatura in Gara 2: aria 28° C, asfalto 54° C • Velocità massima raggiunta dagli pneumatici Pirelli Diablo Superbike in gara: 289,2 km/h, realizzata in Gara 1 da Jonathan Rea (Pata Honda World Superbike) al 6° giro. • Velocità massima raggiunta dagli pneumatici Pirelli Diablo Supercorsa nella gara Supersport: 255 km/h, Fabien Foret (MAHI Racing Team India) al 13° e ultimo giro.