Pirelli and the Kawasaki SRC team win, for the fifth time in the last seven years, the 24 Hours of Le Mans, first round of the FIM Endurance World Championship
Fitting standard DIABLO™ Superbike SC1 tyres both at the front and rear, the Kawasaki ZX-10R number 11 ridden by Grégory Leblanc, Fabien Foret and Mathieu Lagrive made 28 pit stops doing 819 laps in 24 hours, winning with 9 laps ahead of the second classified team
The 3ART Yam'Avenue team, with riders Louis Bulle, Alex Plancassagne, Lukas Trautmann riding the Yamaha R1 on Pirelli standard DIABLO™ Superbike SC3 front and SC2 rear, won the Superstock category
The 39th edition of the renowned endurance race 24 Hours of Le Mans Moto which ended yesterday afternoon on the French track of Le Mans Bugatti Circuit in the presence of 72.300 spectators, saw Pirelli and the Kawasaki SRC team victorious, for the fifth time in
the last seven years. The Kawasaki ZX-10R number 11 bike ridden by riders Grégory Leblanc, Fabien Foret and Mathieu Lagrive, achieved success in the first round of the FIM Endurance World Championship almost exclusively using Pirelli standard DIABLO™ Superbike SC1 both at the front and rear. The Kawasaki SRC rider, Grégory Leblanc, said: "I really want to thank Pirelli, because they gave us the tyres we needed to tackle very cold track conditions. We had grip even at night." and his teammate Fabien Foret added: "Two great teammates, a good bike and the right tyres: that was the recipe for victory."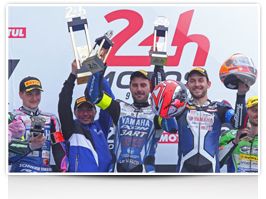 The 24 Hours of Le Mans Moto gave Pirelli, in addition to the race victory, also another satisfaction ; the success of the 3ART Yam'Avenue team. They finished sixth in the final race standings, and won Superstock, a sub-category within the FIM Endurance World Championship where teams may participate with bikes similar to factory models and which, among other characteristics, do not have quick release for the wheels. The Yamaha R1, led by Louis Bulle, Alex Plancassagne, Lukas Trautmann was shod with Pirelli standard DIABLO™ Superbike SC3 front and SC2 rear tyres. In detail, the Kawasaki SRC team made twenty-eight pit-stops in 24 hours achieving a total of 819 laps.
They crossed the finish line with a lead of 9 laps on the runner-up, the Team April Moto Motors Events shod by Dunlop, and 11 laps on the team which finished third, the F.C.C. TSR Honda on Bridgestone tyres. With the exception for the first few laps after the start and for the last laps before the finish, where the rain has forced the Kawasaki riders to use the wet tyres DIABLO™ Rain and DIABLO™ Wet, throughout the race the team is entrusted both for the front and for the rear the standard SC1 solution. The tyres showed great versatility combined with superior performance managing to work well even when, during the night, the air temperature had fallen below 0° degrees.
To cover the approximately 3.427 kilometres travelled, the bike number 11 of the Kawasaki SRC team used a total of 28 rear and 14 front tyres with a change every two pit stops for the front, for an average of 244 kilometres per tyre, and every pit stop for the rear, for an average of 122 kilometres covered on each tyre. In this 24 hour marathon which is held regularly since 1978 on the "Bugatti" circuit of Sarthe, the Kawasaki SRC team has obtained the highest step of the podium by winning this fifth edition after those won in 2010, 2011, 2012 and 2013. These victories sum up to four consecutive successes in the Bol d'Or which bring to nine the total victories obtained by Pirelli together with the Kawasaki SRC team over the last six years of the FIM World Endurance Championship.