Pirelli chosen by Yamaha as tyre supplier for the training track sessions of the fourth round of the Yamaha VR46 Master Camp
DIABLO™ Supercorsa tyres are equipping YZF-R3 machinesridden by the young talents taking part in the training sessions of the MasterCamp at the Misano World Circuit "Marco Simoncelli"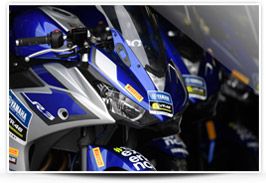 The Yamaha YZF-R3 with Pirelli tyres

Pirelli has been chosen by Yamaha as tyre supplier for the training track sessions of the fourth round of the Yamaha VR46 Master Camp, organized by the manufacturer from Iwata together with the VR46 Riders Academy. The Pirelli DIABLO™ Supercorsa tyres are in fact equipping all the YZF-R3 used by the young talents taking part in the training sessions with the riders of the VR46 Riders Academy. In particular, the YZF-R3 are equipped with 110/70 ZR 17 tyres in SC1 compound for the front and 140/70 ZR 17 tyres in SC2 compound for the rear. The next session of the Yamaha VR46 Master Camp will take place from 24 to 28 July 2017 and, during the Pirelli Riviera di Rimini Round of the FIM Superbike World Championship, Yamaha revealed the names of the attending riders. The six riders selected to take part in July's edition are the Dutch rider Robert Schotman (18), Frenchman Enzo De La Vega (17), the Finn Kimi Patova (15), Ukrainian Mykyta Kalinin (18), Italian Alfonso Coppola (19) and Brazilian Renzo Ferreira(15).
| | |
| --- | --- |
| | |
| The riders of the third round | The riders for the fourth round |
In addition to the training sessions at the Misano World Circuit, where the young talent will use Pirelli fitted Yamaha YZF-R3, the 6 selected riders for the fourth edition of the Master Camp will have the chance to training also at Valentino Rossi's Motor Ranch, at the Misano KCE World Circuit "Marco Simoncelli" and at the Fisio Gym. Their "mentors" during the training week will be Flat Track racer Marco Belli, three time British champion, double European Champion and American Champion, the riders of the VR 46 Riders Academy, the fitness trainer Carlo Casabianca and of course Valentino Rossi.
| | |
| --- | --- |
| | |
| Yamaha YZF R3 with pirelli tyres | Yamaha YZF R3 in the garage |
The DIABLO™ Supercorsa tyres are the same tyres Pirelli is using in the WorldSSP300 class of the FIM Superbike World Championship, where the manufacturer from Iwata is taking part as well, also promoting the Yamaha R3 bLU cRU Challenge. This competition is organized to support the young riders taking part in the new FIM Supersport300 World Championship, helping them develop and have the possibility to become a Yamaha-supported rider in the more important classes in 2018. This activity strengthens the collaboration between Pirelli and Yamaha and represents an acknowledgment by Yamaha of the excellent performance and quality of the tyres Pirelli develops in the FIM Superbike World Championship.