Pirelli GP2 and GP3 Tyres power the show in Istanbul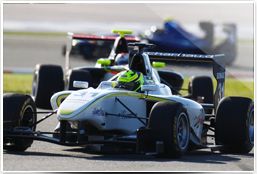 The opening round of Formula One's feeder series - GP2 and GP3 - took place over the weekend at Istanbul Park, with Pirelli's P Zero tyres enjoying a successful start as the first races of the season got underway in Turkey, alongside the Turkish Grand Prix. In Turkey, Pirelli decided to equip both GP2 and GP3 drivers with its medium slicks because of the specific characteristics of the track: a medium-abrasive surface, dramatic gradient changes, two long straights and 14 challenging corners including the multi-apex Turn Eight.
Pirelli's Racing Manager Mario Isola explained
: "Because of the circuit's fast and demanding layout, a tyre with extremely versatile features was required. Our medium slicks were the best option to tackle this track, which is considered a benchmark when it comes to testing both drivers and cars. Adding to the challenge of the track was the weather, with light rain at the start of the weekend. So our P Zero wet tyres saw some action too, providing the GP2 and GP3 drivers with excellent grip on a wet and slippery track."
FRIDAY MAY 6, 2011
Friday started in cold and wet conditions, with the GP2 and GP3 drivers completing their morning practice session running on Pirelli's wet tyres. Lotus ART's Valtteri Bottas topped the time sheets during the first GP3 practice session (1m52.295s) and then it was the turn of Racing Engineering's Christian Vietoris to go fastest in GP2 practice (1:43.399). In the afternoon, the GP2 drivers were back on track for their qualifying session. Running on medium slicks in dry but cool track conditions, Dams driver Romain Grosjean improved his pace significantly to clinch pole thanks to a best lap time of 1:34.398. The day finished with RSC Mucke Motorsport's Nigel Melker using Pirelli medium slicks to set quickest time in GP3 second practice (1m46.151s).
GP2 driver Davide Rigon (Suderia Coloni) commented:
"I was very positively impressed by the behaviour of Pirelli's wet tyres, which proved to be very grippy under the rain at Istanbul. Compared to the Silverstone tests, the handling was very well balanced on the wet tyres this time."
SATURDAY MAY 7, 2011
Saturday's action took place in the afternoon after the Formula One practice and qualifying sessions, in dry and much warmer conditions with track temperatures ranging from 18 to 31 degrees. The first GP2 race got underway on a well-rubbered track, with Pirelli's medium slicks forming the centrepiece of an incredible 32-lap show. From start to finish, the drivers enjoyed a spectacular and closely fought battle for the podium, featuring a storming start, a few accidents, several different strategies and plenty of overtaking right up to the final lap. Most of the drivers carried out only one pit stop between lap nine and 16, changing two tyres and experiencing appropriate levels of tyre wear, as requested by the organisers' from this year.
Former Pirelli test driver and Saturday's race winner Romain Grosjean (DAMS) commented:
"It was a very interesting race! I think nobody knew what to expect from the tyre degradation and there were many different strategies, which proved interesting for the show. As we decided to change only the rear tyres, I had to push hard to stay on top of the car and manage my rubber up to the end, keeping tyre wear under control." GP3 race one got underway with Frenchman Tom Dillmann (Carlin) on pole thanks to a lap time of 1m45.541s in the morning qualifying sessions. Pirelli medium tyres were a highlight of the afternoon's race with Nigel Melker (RSC Mucke Motorsport) making his move to take the lead straight away, sealing his first GP3 Series victory.
SUNDAY MAY 8, 2011
On Sunday morning the GP2 sprint race and GP3 race two were the prologue to the Turkish Formula One Grand Prix. GP3 driver Alexander Sims (Status Grand Prix) took the win, dominating an action-packed 15 lap race, with his pursuers carrying on a fierce fight right behind him. Shortly afterwards, the GP2 drivers hit the track for an exciting 23-lap sprint race, using a fresh set of Pirelli P Zero medium tyres. Stefano Coletti (Trident Racing) dominated the action thanks to a fantastic race, only interrupted by the safety car in the final laps.
Bruno Michel, GP2 GP3 Series boss, commented
: "We wish to compliment Pirelli for the hard work done so far. The Italian tyres spiced up the show throughout the sessions, significantly contributing to what ended up being an incredible race weekend, packed with action and exciting racing. And this is exactly what we were looking for."
Pirelli's Racing Manager Mario Isola added:
"We are very satisfied with the performance of our GP2 and GP3 tyres during this first round of the season. Throughout the weekend we had to face extremely variable track and weather conditions. We received very positive feedback from the teams and drivers about both our wets and medium slicks, which enjoyed a warm welcome at the Istanbul track." Pirelli's P Zero tyres now head to Barcelona (Spain) for the second round of the GP2 and GP3 season, running from 20-22 May, ready to repeat its spectacular Istanbul performance. For further information, please contact: Laura Bartoli on
laura@mediatica.co.uk
 or +44 7500 877 304