Pirelli partners Renault Rally Trophies from 2011
Italian tyre firm Pirelli has sealed a three-year agreement as exclusive supplier to all the prestigious one-make rally series organised by French manufacturer Renault, which will take place throughout several European countries in 2011. The partnership with the French manufacturer is Pirelli's latest challenge, strengthening its presence in rallying throughout Europe.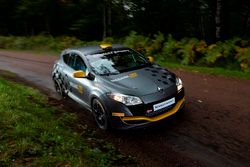 Pirelli tyres have already been seen on the Renault Clio R3 since the car made its debut in 2009, supplying the Italian and Swiss Clio championships, and the Italian rubber has also equipped the Twingo R2 since 2010. From 2011 the Italian covers will be used exclusively by every Renault competing on the manufacturer's one-make rally series: not only in Italy, Switzerland, and in the United Kingdom, but also in Spain, France and other countries. Pirelli will be involved in Renault's rally activities at a higher level too as sole supplier to its renowned European Trophy, which forms part of the Intercontinental Rally Challenge. These championships are open to all of Renault's two-wheel drive rally cars such as the Clio Renault Sport R3 and Twingo Renault Sport R2, as well as the new Twingo Renault Sport R1, which has been selected by the French motorsport federation as the sole car for the forthcoming French Junior Championship. In addition, the new Megane Renault Sport RS N4 is also to run on Pirelli rubber. The cars will use a selection of Pirelli's asphalt and gravel tyres this year. These tyres are based on technology similar to the covers seen on the World Rally Championship, where the Italian firm was sole supplier from 2008 to 2010. All cars will use the same range of tyres: the RX for asphalt, RE for wet conditions and K for gravel. The Twingo Renault Sport R1 will use a 15-inch tyre, the Twingo Renault Sport R2 has a 16-inch tyre, and the Clio Renault Sport R3 is fitted with a 17-inch tyre. Renault's rally series represent the perfect arena for drivers to compete for two-wheel drive class wins on their national championships. Having included an affordable but highly competitive rally car as the Twingo Renault Sport R1, the French manufacturer enables young driving talent to limit costs together with Pirelli, which has always believed in assisting the careers of young drivers. This latest partnership with Renault underlines Pirelli's commitment to rallying, with the Italian firm having been involved in the World Rally Championship since its inception in 1973. Pirelli's Motorsport Director Paul Hembery commented: "It's a great pleasure and privilege for Pirelli to work in association with such a leading brand as Renault, with whom we are also collaborating in Formula One this year. With a selection of four highly competitive rally cars and several prestigious one-make trophies, the French manufacturer has underlined its commitment to customer competition activities. Thanks to this three-year agreement, Pirelli will be able to extend its market share in Europe, especially with regard to France, which is a very important market for us. We will also continue to support young drivers, which is an integral part of our motorsport strategy."