Pirelli privateers push for Portuguese points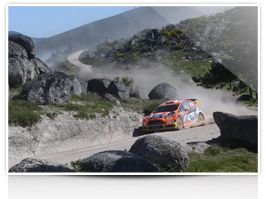 Robert Kubica
The World Rally Championship returns to Europe for Rally de Portugal, with a number of leading privateers seeking strong results on Pirelli's latest Scorpion K tyres. The event made a popular return to classic stages around Porto in 2015 and it remains there this year with an almost identical route. The stages are very demanding on tyres, which need to withstand rough and rocky roads while also offering sufficient grip on more sandy surfaces. Rain can make the route extra slippery. Consisting of 19 stages and 368 kilometres, Rally de Portugal begins with a superspecial at the Lousada rallycross circuit on the evening of Thursday 19 April, followed by a full itinerary of six stages on Friday plus two runs of a new street stage in Porto. Six more stages follow on Saturday, while the four on Sunday include the two runs over Fafe and its iconic jump, the latter as the Power Stage.
Leading Pirelli drivers on Rally Portugal
Among those relying on Pirelli tyres will be Martin Prokop: the Ford Fiesta RS WRC driver making his second appearance of the season at an event on which he has a strong record. Prokop's team mate in a similar car is Jaroslav Melicharek, who is taking his first start of 2016. Valeriy Gorban will also be present in his Mini WRC. The top Portuguese drivers will use Pirelli tyres, with Miguel Campos and Diogo Salvi taking on WRC2 in a Skoda and Ford respectively, while reigning national champion Jose Pedro Fontes drives a Citroen. Young Italians Fabio Andolfi and Damiano De Tommaso resume their WRC3 campaigns in Peugeot 208s with support from Pirelli and ACI, the Italian motorsport federation.
The tyres and the rules
Pirelli will supply its drivers with the latest evolution of the Scorpion K tyre, which was introduced earlier this year in Mexico. The hard compound KHB tyre has been nominated as the main choice with the soft compound KSB as the option. World Rally Car drivers are allowed to use 24 tyres during the rally, with four tyres per tyre change opportunity and four spares. In Portugal, they can choose from 24 of the 205/65-15 Scorpion KHB Reinforced hard compound and 16 of the 205/65-15 Scorpion KSB Reinforced soft compound for cooler or sandy stages.
Quotes
Terenzio Testoni, Pirelli rally activity manager:
"We discovered last year that the stages around Porto were very rough and demanding on the tyres. The hard compound KHB is therefore the main choice to give stability and performance on the most severe surfaces, but drivers may also opt to use the soft compound KSB for more slippery conditions. Martin Prokop enjoyed a good return in Mexico and has tasted success in Portugal before, and we also hope to help the best of the Portuguese drivers to shine at home."
***
For further information please contact:
Anthony Peacock • +44 7765 896 930 •
anthony@mediaticaworld.com