Pirelli Scorpion MX Tyres Champions of Internazionali d'Italia
Titles to Cairoli (MX1 and Elite), Charlier (MX2) and Righi (125) The opening of the International motocross season has brought to the forefront the Pirelli Scorpion MX tyres that have won all four titles available at the Internazionali d'Italia.
On the loose and slippery soil of the Arco track that will host a World championship race on April 14th, the Pirelliriders dominated in the third and last round of the championship relying on Pirelli Scorpion MX MidSoft 32'sperformance, that monopolized the four categories podiums with 11 Pirelli hats amongst 12 awarded riders.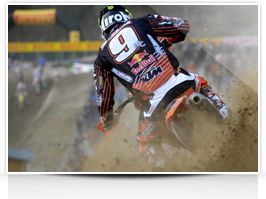 Dominating the 2013 season has been Antonio Cairoli, which thanks to this victory obtained the MX1 title, and conquering the Elite one as well, despite being forced to retire due to a bent gear lever. Championship rules allow riders to reject one of the three results. In the overall MX1 ranking the six times world champion Cairoli preceded his teammate Ken De Dycker, who after the second heat was leading the race but at the main event he could not do better that 4th because of a serious bronchitis. In the Elite category Cairoli left behind the official Yamaha rider Steven Frossard and teammate De Dycker; good performance also for David Philippaerts, 5th ahead of Joel Roelants, Shaun Simpson and Christophe Charlier.
Charlier revealed himself as the winner of the Elite class riding a 250, and didn't disappoint the prognosticator ensuring the MX2 title with the place of honor behind Jeffrey Herlings, who raced fast and with precision making a mark for himself in the Elite class also. 250 class saw the first five positions taken by Pirelli pilots, with Jordi Tixier, Alex Lupino and Harri Kullas right behind Charlier. Full success in 125 class as well, with Riccardo Righi who perfectly acted his role of leader winning the race and obtaining the title ahead of the other Pirelli riders Tomass Sileika and Kade Walker. In Valence, the French traditional international race, Pirelli Scorpion MX tyres took the first two steps on the podium with the official Suzuki rider Clement Desalle ahead of the Frenchman Xavier Boog, new entry of the KTM IceOne team.
The International motocross activity continues with the first World Championship race that will be held in Qatar on March 3rd.