Pirelli tyres rule punishing dutch sand in the sixth round of the FIM Motocross World Championship
Another clean sweep at MXGP round six for SCORPION™ MX tyres as Cairoli, Herlings and Pootjes win and lead their respective classes. The Valkenswaard sand was a difficult test for the riders as much as the machinery and technology at the Grand Prix of the Netherlands. However this setting further emphasised the high traction potential and performance of Pirelli SCORPION™ MX tyres as they excelled in the premier categories.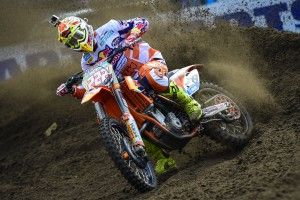 MXGP class was the domain of the superb seven times World Champion Antonio Cairoli, steering his factory KTM with SCORPION™ MX MidSoft 32F front and Soft 410 rear. The Sicilian consolidated his lead in the standings by comfortably winning the second moto and coming home third in the first race despite a broken front wheel. The premier class saw the first six riders using Pirelli rubber and also the debut of the new rear SCORPION™ MX Soft 410 120/80-19 through the loose terrain and filling the first three positions between the 450 and 350cc machinery behind Cairoli. The second step of the podium was filled by Yamaha Factory Racing's Jeremy Van Horebeek who fronted a Belgian trio with Suzuki's Kevin Strijbos and Clement Desalle behind in third and fourth respectively. MX2 category followed the formbook of the previous four years with world champion and home star Jeffrey Herlings in total control partly thanks to SCORPION™ MX MidSoft 32F front and Soft 410 rear. The Dutchman registered his third double of the year and regained control of the championship standings from Switzerland's Arnaud Tonus. Pirelli's bright day in the sun was complete in the European EMX125 series as Davy Pootjes thrilled his home crowd and growing legion of fans with a 1-1 score, ranking ahead of other Pirelli riders Alvin Ostlund and Max Engelen. "Bringing in the new SCORPION™ MXSoft 410 120/80-19 at the last minute and seeing it perform like that was very satisfying," said Pirelli Racing Service Manager Giovanni Gatti. "It has been developed for the 450 and after arriving from Brazil on Friday morning was shipped directly to the works Suzuki and Yamaha teams. We were pleased to see the positive reception as Van Horebeek used it to set the fastest lap in Timed Practice on Saturday. The final confirmation that we've done some good work with this tyre was seen with the first three positions in the MXGP class. So I have to give big thanks to Pirelli Brazil and all the R&D logistics for their work and co-operation with the department and racing service in Italy; this collaboration has allowed us to develop, produce and put a powerful compound on the track in a few weeks." Round seven of the FIM MXGP Motocross World Championship will take place on May 11th at the Talavera de la Reina circuit in Spain.