Pirelli tyres show speed and consistency at Spa 24 hours
At an unusually dry Spa 24 Hours, Pirelli tyres demonstrated the speed and consistency that make them the original equipment choice for the majority of the world's supercar manufacturers.
"
The winning Audi in the pits
Not only that, but Pirelli once more mounted the biggest logistical operation in its entire motorsport season, involving 9000 tyres, 20 trucks, 80 staff and non-stop 24-hour service. Conditions this year were not typical of the Spa 24 Hours: there was no rain at all throughout the race, although there were some damp sections, and temperatures remained very low during the night in particular. Pirelli brought the single P Zero compound that is required by the regulations, which has to suit a wide variety of different car configurations as well as circuits and conditions throughout the year. Spa is the most demanding track of the Blancpain GT season, with multiple forces placed on the tyres, including the famous compression at Eau Rouge. There were a number of incidents and stoppages, but after 24 hours of racing among 61 cars, the win was only decided in the closing minutes, with the Belgian Audi Club Team WRT car of Vanthoor/Winkelhock/Rast claiming victory from the BMW Sports Trophy Team Marc VDS entry of Luhr/Werner/Paltalla. A gap of just seven seconds separated them, after 527 laps. This underlined how hard all of the drivers were pushing. Under these demanding circumstances, the Pirelli tyres proved to be flawless – allowing non-stop wheel-to-wheel racing throughout the day and night.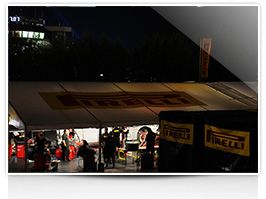 Pirelli team by night
Pirelli senior engineer Matteo Braga said: "I'd like to congratulate not just all the crews but also our team of people, who worked non-stop to deliver an impeccable service during the 24 hours. This is the biggest logistical operation of the season for us, involving even more on-site personnel than our Formula One team, and specialised Pirelli staff from all over the world, including the USA and Brazil as well as Europe. Despite the demands of servicing so many competitors day and night, Pirelli proved once more why it is acknowledged as the world leader in the Ultra High Performance sector: both on the track and the road. The tyres demonstrated both performance and durability: the two attributes most needed in endurance racing, with positive feedback from the drivers. Unfortunately the race was marred by some accidents too: we wish those involved all the best for a full recovery, especially Marcus Mahy who remains in hospital in Belgium." The next Blancpain round takes place at the Slovakia Ring, part of the Blancpain Sprint Series, on August 22.
***
For further information on Pirelli, please contact Anthony Peacock on anthony@mediaticaworld.com or +44 7765 896 930.
For Blancpain Endurance Series information: www.blancpain-gt-series.com