Pirelli will be an official "motorcycle tire" sponsor of the Monster Energy AMA Supercross, an FIM World Championship, for 2014-2016 and the sole tire supplier for Toyota/Yamaha/JGRMX and BTO Sports-K
The Italian tire company has signed a multi-year agreement with Feld Motor Sports®, a division of Feld Entertainment® and promoter of the Championship, to be an Official Sponsor and will support the riders Josh Grant, Justin Brayton, Andrew Short and Matt Goerke
Pirelli has signed an agreement with Feld Motor Sports®, a division of Feld Entertainment®, for the period 2014-2016 which includes the sponsorship by the Italian tire company of the Monster Energy AMA Supercross, an FIM World Championship.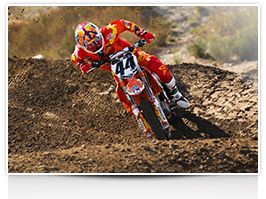 For the 2014 season, which includes 17 events and starts on January 4 at Anaheim's Angel Stadium in California and ends on May 3 in Las Vegas, Pirelli is also the official tire supplier of the Toyota/Yamaha/JGRMX team and its riders Josh Grant and Justin Brayton plus BTO KTM-Sports team riders Andrew Short and Matt Goerke. Each rider will have at their disposal the PIRELLI SCORPIONTM range and can rely on a professional service and on-going support from Pirelli technicians.
"I am very pleased with this agreement which involves us in Monster Energy Supercross for the next three years. Pirelli is undoubtedly an Italian company that has always had a strong large-scale effort and interest around the world. The American market, as well as the Asian one, is a very important region in which we want and must grow because we are strongly aware of the excellent quality of our products and we want to prove it. In the Motocross World Championship our expertise has led us to win 60 world titles. This agreement, as was the case on an international scale with Formula 1® and the FIM Superbike World Championship for which we are sole tire supplier, will allow us to strengthen our brand awareness in the U.S. by making Pirelli known and appreciated by the American public in what, for them, is the most popular motorcycle sport" said Uberto Thun-Hohenstein, Senior Vice-President of Pirelli Moto and Head of the Business Unit Moto.
Created in 1974, Supercross is the most important motorcycle championship in the world in terms of TV and onsite audience.
Supercross is an extreme competition that, unlike motocross, takes place on tracks made of dirt built within baseball or football arenas. In 2008, the Supercross World Championship sponsored by FIM merged with the AMA Supercross thus giving rise to a united single World Supercross Championship, named Monster Energy AMA Supercross, an FIM World Championship.