Pirelli's ready for the motorcycle racing season
In 2014,
Pirelli
continues its commitment in many national and international motorcycle racing competitions both on track and off-road. This year racing season opened on January the 4th in Anaheim, United States, with the first round of the
Monster Energy AMA Supercross an FIM World Championship
of which Pirelli is official "motorcycle tire" sponsor for the period 2014-2016, as well as the official tire supplier for Toyota/Yamaha/JGRMX and BTO Sports-KTM teams. Pirelli was also confirmed as sole tire supplier for all the classes of the
FIM Superbike World Championship,
which kicks off on February the 23rd in Australia. This year for the first time ever, the premier class, which sees the already confirmed presence of 8 motorcycle manufacturers, will see on the grid the Superbike EVOs. The
FIM Motocross World Championship
, in which the Italian tire company can boast 60 World titles, will start on March the 1st and will include 18 rounds, during which the SCORPION™ tires will support many of the participating riders. After the historic transition from 16.5-inch tyres to the higher performing 17" ones introduced last year in the FIM Superbike World Championship, Pirelli has decided to provide all the national Superbike championships, in which the company is the sole supplier, with the new DIABLO™ Superbike 17-inch tires, from the British Superbike Championship on. Pirelli and British Superbike have been collaborating already since 2008.  The riders of the British Championship will take to the track for the first round at Brands Hatch on April the 18th. Pirelli also confirmed its commitment as a sole tire supplier for the Stock 600 class of the Italian Championship (CIV), for the Honda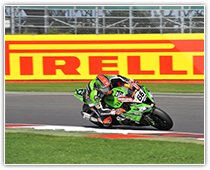 Cup, for the Pirelli 600 category of France Superbike, for Canadian championship's Superbike and Supersport classes, for Brazil Superbike Series, for the Superstock 1000 Cup in South Africa and in Costa Rica, for the Supersport Series in Malaysia, plus for the BMW CUP in Spain and Germany, for the Aprilia Cup in Poland, for the R125 Cup in the Netherlands and for the 250 Cup of Taiwan. In addition, Pirelli will be the sole supplier of the
Australian Superbike Championship
from 2014 onwards.