ST:01™ BASE, a value performance
The 01™ Series enjoys the addition of a new commercial vehicle line with ST:01™ BASE for fitment to trailers and semi-trailers. Designed to guarantee high mileage at affordable costs, ST:01™ BASE meets the requirements of modern heavy goods vehicles on medium/long-haul trips. Casing and compounds are designed to optimise tread wear and therefore long life, full efficiency and security whether utilised on local routes (R rating) or motorways (H rating). The innovative geometry of the tread's central grooves reduces movement in the compound and consequently, rolling resistance, thus curbing fuel consumption. The grooves' zigzag pattern prevents stone retention and, along with the reinforcing ribs, offers enhanced resistance to sidewall scrapes. The land-to-sea ratio has been increased to provide higher mileage and longer life.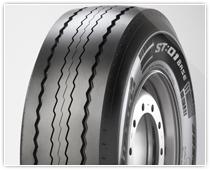 Furthermore, like all 01™ Series tyres, the new ST:01™ BASE offers easy reuse thanks to high retreadability and recyclable materials containing no environmentally-harmful highly-aromatic oils (HAOF). Size 385/65 R 22.5 will be available in July. Size 385/55 R 22.5 will be released during the fourth quarter.