Third consecutive MXGP double for Pirelli Scorpion MX
The Grand Prix of Finland sees Cairoli and Herlings celebrating again
Hyvinkää (Finland), 15 July 2013 ­– The bumpy and tough sand of the Hyvinkää circuit some 60km north of Helsinki was another prolific stage for the Pirelli Scorpion MX with victory in both classes as well as the European EMX250 series and seven of nine possible podium results. The trump card for the protagonists at this twelfth round of seventeen was the combination of Scorpion MX MidSoft 32F front and Scorpion MX Soft 410 rear; chosen for superior performance stability for traction and changes of direction. For the third consecutive Grand Prix in the MX1 class Antonio Cairoli was unbeatable in the overall standings and owned both motos in Finland. He walked the podium top step ahead of Suzuki's Clement Desalle and now enjoys a gap of 99 points in the standings over Frenchman Gautier Paulin who could only finish sixth overall. Desalle stood alongside team-mate Kevin Strijbos and just in front of another Pirelli rider in the form of Ken De Dycker.
World Champion-elect-for-2013 Jeffrey Herlings was again the reference for the MX2 category as he has been for the previous eleven meetings this season. His phenomenal speed in the sand put the result beyond doubt with another commanding double and took the Dutchman to twelve wins and closer to his goal of the 'perfect year'. The KTM rider finished ahead of Australian Dean Ferris and then team-mate Jordi Tixier; the Frenchman consolidating his second position in the championship standings. Noteworthy performances from the steady Alexandr Tonkov in fifth overall and Yamaha's Christophe Charlier who is fourth in the MX2 ranking but suffered a mishap in a first corner pile-up at the start of the second moto.
The Pirelli Scorpion MX was prominent in the EMX250 championship with another Dutchman - Mike Kras – prevailing for the first time this season for the fifth round of eight and winning just ahead of series leader Valentin Guillod.
The FIM Motocross World Championship will now pause for a week before reconvening on July 28th for the Grand Prix of Germany at the Lausitzring motorsport complex.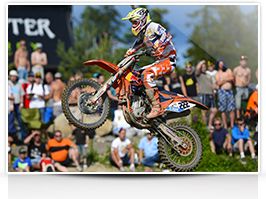 Gran Prix of Finland, Hyvinkää: Temperature 25°, Humidity 39% MX1 Overall Classification:
| | | | |
| --- | --- | --- | --- |
| 1. | Antonio Cairoli | KTM | Team Red Bull Factory |
| 2. | Clement Desalle | Suzuki | Team Rockstar Energy |
| 3. | Kevin Strijbos | Suzuki | Team Rockstar Energy |
| 4. | Ken De Dycker | KTM | Team Red Bull Factory |
| 5. | Van Horebeek | Kawasaki | Kawasaki Racing Team |
MX1 Championship standings after 12 rounds
| | | | |
| --- | --- | --- | --- |
| 1. | Antonio Cairoli | KTM | p. 564 |
| 2. | Gautier Paulin | Kawasaki | p. 465 |
| 3. | Clement Desalle | Suzuki | p. 456 |
| 4. | Ken De Dycker | KTM | p. 441 |
| 5. | Kevin Strijbos | Suzuki | p. 365 |
MX2 Overall Classification:
| | | | |
| --- | --- | --- | --- |
| 1. | Jeffrey Herlings | KTM | Team Red Bull Factory |
| 2. | Dean Ferris | Yamaha | Team Monster Energy |
| 3. | Jordi Tixier | KTM | Team Red Bull Factory |
| 4. | José Butron | KTM | Team Silver Action |
| 5. | Alexandr Tonkov | Honda | Team Esta Motorsport |
MX2 Championship standings after 12 rounds
| | | | |
| --- | --- | --- | --- |
| 1. | Jeffrey Herlings | KTM | p. 592 |
| 2. | Jordi Tixier | KTM | p. 441 |
| 3. | José Butron | KTM | p. 383 |
| 4. | Christophe Charlier | Yamaha | p. 343 |
| 5. | Glenn Coldenhoff | KTM | p. 326 |