A Formula for trucks with a range of thirteen products
Pirelli
introduces the associate brand
Formula
that with the market's best-selling sizes, completes the range of truck products and services from Pirelli, for the management of heavy vehicle fleets. Designed for medium/long haul transport, the Formula line is all-season and available for both European and Turkish markets with six sizes and two rim diameters (17.5 and 22.5 inch) for a total of thirteen products. More specifically,
Formula Steer
, the steer axle version, has four straight circumferential grooves to guarantee driving precision, control and safety even in difficult driving conditions. Deep siping on the edges of each rib helps to prevent uneven wear throughout the life of the tyre. Optimised siping and tread pattern geometry ensure reduced braking distances and improved lateral grip.
Formula Drive
, for drive axle, offers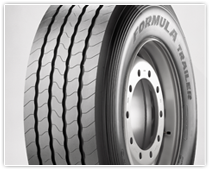 high performance under all conditions: The directional tread pattern provides better handling in the wet, reduces noise and optimises grip in all conditions. In conclusion,
Formula Trailer
maintains efficiency at the rear of the vehicle. This tyre features four zigzag circumferential grooves for improved cross-grip and braking performance, even in the wet. Sturdy ribs ensure excellent resistance to strong lateral stress.