Around the world in eight sets of Pirelli Scorpion Trail Tyres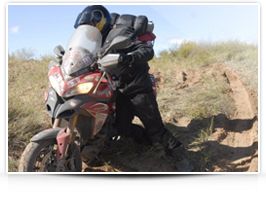 Pirelli congratulates Italian Ducatista Paolo Pirozzi as he is welcomed home tomorrow after passing over five continents and riding nearly 100,000 km on Pirelli Tyres Pirelli's Scorpion Trail tyres have completed a lap around the world on the Ducati Multistrada 1200 S Touring of Paolo Pirozzi of Naples, who began his journey eastward on the 14th of June, 2010 from the WDW hosted at Misano World Circuit. Using only 8 sets of Scorpion Trail tyres to cover nearly 100,000 km in a year long trip which ends this weekend, Paolo was confident with the tyres' performances throughout in terms of traction, safety and mileage on every type of road condition. Fans will welcome home Paolo as he arrives to the Autodromo of Imola on his Pirelli-fitted Ducati in occasion of the "Passione in Moto" event organized by the Province of Bologna and Ducati, where many will be anxious to hear his stories of adventure.
Pirelli supported this traveling motorcyclist of southern Italy who made his trip a community affair with visits to 80 "DOC", or Ducati Owners Clubs. Riding on, over and through the terrain of 80 countries in a period of 350 days, Paolo put close to 100,000 km on his Scorpion Trail tyres, which is equal to circulating the earth at the equator two and a half times. Leaving home in June 2010, his road adventure started through eastern Europe, then onto Russia, Japan, China and greater Asia, Australia, North America, Central and South America, North Africa and back through Europe. Pirelli proved itself leader in versatility and performances until the last mile, providing only seven tyre changes and seeing an overall mileage per set of 12,500 km.
Supporting this incredible challenge with both logistics and product, Pirelli arranged these seven tyre changes match the lifecycle of each set of tyres in Russia, Tokyo, Canada, Miami, Bogotá (Columbia), France, and the last in Venice, Italy.
Tyre life, which ranged from 4000 up to 16000 km per set, was highly dependent upon road conditions with the average life decreasing as Paolo passed through areas such as Siberia, China, Pakistan and South America reaching Ushuaia, Argentina, the southernmost inhabited land on earth.
Originally developed for the Ducati Multistrada's 4-bikes-in-1 concept, the performance and versatility of Scorpion Trail tyres were assured in every condition with their Supersport profiles, bi-compound tread and long-pitch tread design. Tyres were tested to their very extreme: Paolo covered routes averaging 250 km per day with some day trips lasting 1000 km in a wide range of temperatures, dropping below -10°C in Denver, Colorado and surpassing 40°C in Tokyo, Japan, as well passing over many different road surfaces, from the smooth asphalt of the American highways to the off-road conditions seen at elevation in parts of Asia. To add to this challenge, nearly every climate was encountered, from the heat and humidity of Malaysia, to pouring rain in parts of South America, to blinding snow in the Colorado Rockies and the dry air of northern Africa.
Paolo Pirozzi left these thoughts: "I was able to realize my ultimate dream thanks to the support of Pirelli and Ducati," confirms Paolo Pirozzi. "Thanks in particular to Pirelli because their Scorpion Trail tyres were always predictable, offering me confidence and performance in every situation and making it easier for me to confront this mega-adventure."
This worldwide voyage is evidenced in the "Giro Del Mondo in 80 DOC" website diary, www.paolopirozzi.com and on the YouTube video blog: www.youtube.com/girodelmondoin80doc.