Erlings & Cairoli Dominate The Dutch Sand
With two rounds remaining the factory KTM duo equipped with Pirelli tyres is on the verge of championship glory The treacherous Dutch sandy track in the Brabant region full of holes, bumps and ruts was the stomping ground for MX1 and MX2 points leaders Antonio Cairoli and Jeffrey Herlings with their Pirelli Scorpion MX combinations. Both riders enjoyed an embarrassing degree of superiority in the motos and have now reached a position where their respective titles can be won at Grand Prix of Europe that will take place at the Faenza circuit in Italy on September 9th. Cairoli ruled with a selection of Pirelli Scorpion MX MidSoft 32 front and Soft 410 rear; the choice that all the vast Pirelli racing riders opted for across the sand, and it helped towards his fourth consecutive MX1 double moto haul. Even a crash in the second sprint did not deter the Sicilian who scaled the top step of the podium ahead of team-mate Ken De Dycker and Estonian Suzuki rider Tanel Leok. Bad luck for Max Nagl, who crossed the finish line of the first moto behind Cairoli but fell on the opening lap of the second race and had to retire with a broken footpeg. Only 6th in the classification, Clement Desalle was competing with a painful right hand after a crash in the previous Grand Prix. The Belgian is now 76 points behind the works KTM rider and the only racer that can stop Cairoli from securing a sixth crown. Christophe Pourcel was forced to retire with a painful shoulder and the Frenchman has lost third place in the championship standings as a consequence.
Lierop was a fantastic stage for Herlings to show his sand mastery and in the first MX2 outing he lapped the entire field up until second place. Only his team-mate Jeremy Van Horebeek was spared. Herlings passed every rider up until fourth position in the second race. Third and fourth were other Pirelli representatives Max Anstie and Tommy Searle; the latter now trails the Dutchman by 65 points heading to Italy this week.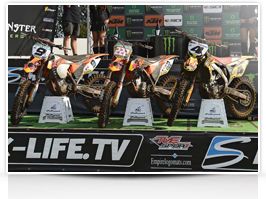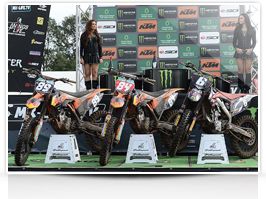 Pirelli also shone in the European MX2 series with Mike Kras finishing third overall.
MX1 Overall Classification:
| | | | | |
| --- | --- | --- | --- | --- |
| 1. | Antonio Cairoli | KTM | Red Bull KTM Factory Racing | |
| 2. | Ken De Dycker | KTM | Red Bull KTM Factory Racing | |
| 3. | Tanel Leok | Suzuki | Team Rockstar Energy | |
| 4. | Evgeny Bobryshev | Honda | World Motocross | |
| 5. | Shaun Simpson | Yamaha | Monster Energy | |
MX1 Championship standings:
| | | | | |
| --- | --- | --- | --- | --- |
| 1. | Antonio Cairoli | KTM | p. 592 | |
| 2. | Clement Desalle | Suzuki | p. 516 | |
| 3. | Gautier Paulin | Kawasaki | p. 468 | |
| 4. | Christophe Pourcel | Kawasaki | p. 452 | |
| 5. | Ken De Dycker | KTM | p. 446 | |
MX2 Overall Classification:
| | | | | |
| --- | --- | --- | --- | --- |
| 1. | Jeffrey Herlings | KTM | Red Bull KTM Factory Racing | |
| 2. | Jeremy Van Horebeek | KTM | Red Bull KTM Factory Racing | |
| 3. | Max Anstie | Honda | Gariboldi Esta | |
| 4. | Tommy Searle | Kawasaki | Team Floride | |
| 5. | Arnaud Tonus | Yamaha | Monster Energy | |
MX2 Championship standings:
| | | | | |
| --- | --- | --- | --- | --- |
| 1. | Jeffrey Herlings | KTM | p. 622 | |
| 2. | Tommy Searle | Kawasaki | p. 557 | |
| 3. | Jeremy V. Horebeek | KTM | p. 519 | |
| 4. | Jake Nicholls | KTM | p. 387 | |
| 5. | Joel Roelants | Kawasaki | p. 367 | |