Herlings irresistible in Portugal
On the red dirt of Agueda Herlings posts his sixth win in a row while Cairoli earns second place
The Agueda circuit was the site of the sixth round of the FIM Motocross World Championship and the famous rough and red dirt provided its usual harsh test for the riders; the technical level of the terrain punishing the smallest mistake. The undisputed winner at the Grand Prix of Portugal was Jeffrey Herlings in the MX2 class as the Dutchman danced his works KTM to another double moto victory using Pirelli Scorpion MX to remain undefeated in 2013. Selecting the Scorpion MX MidSoft 32 F front and Scorpion MX MidSoft 32 rear, as opted for by most Pirelli racers, the reigning world champion aced his sixth GP of the year and his dream of marking the perfect season is not looking so unrealistic after he lapped all riders up until the top ten. A couple of crashes in the first moto and a dip in form compared to the previous two rounds meant that KTM team-mate Jordi Tixier was only fourth on this occasion but still defends second place in the championship standings from Glenn Coldenhoff.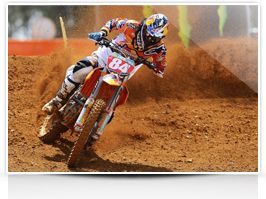 A scary fall on the last lap just when he was about to attack Gautier Paulin for the lead cost Antonio Cairoli the chance of overall win at Agueda. The Sicilian was able to hold a broken front brake and finish third behind Suzuki's Clement Desalle but the position meant his second moto triumph was still not enough to defeat Gautier Paulin who posted finishes of first and second for the top step and now trails Cairoli by 38 points in the championship. Desalle was lucky to escape without a big injury after a huge crash battling with Paulin on the penultimate circulation of the second moto. The Belgian was able to remount with a painful back and finish fifth to still make the podium in third place. Also shining with Pirelli Scorpio MX was Ken De Dycker and Tommy Searle in fourth and fifth respectively.
The excellence of the Pirelli Scorpion MX was in further evidence with the first two positions in the European EMX250 Championship thanks to Swiss Valentin Guillod and Belgian Damon Graulus and second and third places in the EMX125 division with German Henry Jacobi and Frenchman Nicolas Decourt. The FIM Motocross World Championship will now pause for a week and reconvene at Beto Carrero in Brazil on May 19th.
Grand Prix of Portugal, Agueda: Temperature 28°, Humidity 47%
MX1 Overall Classification:
| | | | | |
| --- | --- | --- | --- | --- |
| 1. | Paulin Gautier | Kawasaki | Kawasaki Racing Team | |
| 2. | Antonio Cairoli | KTM | Team Red Bull Factory | |
| 3. | Clement Desalle | Suzuki | Team Rockstar | |
| 4. | Ken De Dycker | KTM | Team Red Bull Factory | |
| 5. | Tommy Searle | Kawasaki | Team CLS | |
MX1 World Championship standings (after 6 rounds):
| | | | | |
| --- | --- | --- | --- | --- |
| 1. | Antonio Cairoli | KTM | p. 280 | |
| 2. | Gautier Paulin | Kawasaki | p. 242 | |
| 3. | Clement Desalle | Suzuki | p. 227 | |
| 4. | Ken De Dycker | KTM | p. 217 | |
| 5. | Kevin Strijbos | Suzuki | p. 183 | |
MX2 Overall Classification:
1.
Jeffrey Herlings
KTM
Team Red Bull Factory
2.
Dean Ferris
Yamaha
Team Monster Energy
3.
José Butron
KTM
Team KTM Silver Action
4.
Jordi Tixier
KTM
Team Red Bull Factory
5.
Christophe Charlier
Yamaha
Team Monster Energy
MX2 World Championship standings (after 6 rounds):
| | | | | |
| --- | --- | --- | --- | --- |
| 1. | Jeffrey Herlings | KTM | p. 300 | |
| 2. | Jordi Tixier | KTM | p. 219 | |
| 3. | Glenn Coldenhoff | KTM | p. 183 | |
| 4. | José Butron | KTM | p. 178 | |
| 5. | Christophe Charlier | Yamaha | p. 171 | |