Intelligent haulage with Cyber™ Fleet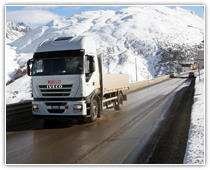 CyberTM Fleet is an electronic sensor and computer system that provides truck driver and fleet manager with up-to-the-minute data regarding the tyre's condition and the vehicle's geographical position. CyberTM Fleet sees Pirelli extend to the haulage sector the CyberTM Tyre technology designed for car tyre safety. The presentation took place at Truck Safety Day (held on 27th January in Livigno, Italy), a heavy goods vehicle road safety event where a snow-covered track was used to test new 01 Series winter tyres developed by Pirelli to guarantee maximum performance and safety over medium and long distances on wet, snowy or icy surfaces with temperatures below 4 °C . CyberTM Fleet is designed to provide continuous tyre monitoring, detecting irregularities and ensuring the proper maintenance that is indispensable to road safety: having the correct tyre pressure at all times ensures steering precision and confident braking and cornering, whilst guaranteeing lower running costs by cutting fuel consumption and extending the tyre lifespan.
Developed by Pirelli R&D in partnership with Schrader Electronics, CyberTM Fleet is an electronic sensor (called TMS - Tyre Mounted Sensor) that is fitted to the internal surface of the tyre in order to collect all data regarding the tyre pressure, temperature and identification, as well as mileage by way of GPS. The system transmits simultaneously to the truck driver and fleet manager. Starting in February, CyberTM Fleet will be tested by several major European and South American fleets ready for marketing in September 2012. .