Mixed tyre strategies for GP2 in Great Britain: hard tyre in GP3 soaks up the demands of Silverstone
Mixed weather conditions at Silverstone led to a variety of different tyre strategies in the GP2 feature race on Saturday, which started off on a damp track. Around half the field started off on P Zero White medium tyres, while the other half opted for P Zero Orange hard. Ferrari-backed driver Raffaele Marciello (Racing Engineering) took his debut pole on the medium tyres, and opted to start the 29-lap race with the same compound. But Jolyon Palmer (DAMS) and former GP3 champion Mitch Evans (Russian Time), immediately behind him on the grid, both selected new hard tyres – setting the scene for an intriguing tactical battle. Marciello made his pit stop on lap 10: a strategy that would have given him a realistic chance of victory had he not retired with a technical problem four laps later. Evans had passed Palmer – who started on the damp side of the grid – on the opening lap, and the gap between them was so small that a large part of the outcome of their battle would rest on the pit strategy. Palmer came in for used mediums on lap 18 and Evans one lap later, following a rapid in lap. Evans emerged just in front of Palmer and managed to hold off the championship leader. ART Grand Prix driver Stoffel Vandoorne finished third, 20 seconds further back, after adopting a used hard-used medium strategy with a pit stop on lap 18.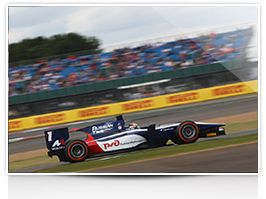 Mitch Evans won the GP2 feature race for the first time
Evans, claiming his first GP2 victory, said his in-lap and tyre performance made the difference. "I just made the most of what I had, and fortunately I still had some life left in the tyres and had a good in lap," said the New Zealander. "I think we had the fastest pit stop so that really helped and after that it was really close between us. The option tyre came in quicker that I thought, which really helped me, and after Copse I just put my head down and the car was better than how it was at the start of the race." The 21-lap GP2 sprint race on Sunday was won by Felipe Nasr (Carlin) from second on the reversed grid, while fourth for Palmer was enough for the Englishman to hang onto the lead of the championship. All the cars used the hard tyre. With only the hard tyre nominated for GP3 at Silverstone, the two 15-lap races were more about tyre management than strategy, with the drivers benefitting from a drier track than GP2. Jimmy Eriksson took a debut win in Saturday's GP3 race from pole for Korainen GP, while Carlin driver Alex Lynn finished second to conserve his championship lead, also thanks to a sixth place finish on Sunday's race. Eriksson commented: "The first few laps were really good for me, I could open up a small gap to the other guys and I then tried to save my tyres. But still at the end Lynn was really quick." Lynn confirmed that the P Zero hard tyres were well suited to the demands of Silverstone. "I think it was pretty good," he said. "I wasn't conserving them much to be honest, it was just Jimmy was quicker at the start."
Jimmy Eriksson also claimed his first GP3 win
In the GP3 race on Sunday, Status GP finished first and second at their home event courtesy of Richie Stanaway and Nick Yelloly, having both got past Dino Zamparelli (ART) who dropped back from pole position. Pirelli's racing manager Mario Isola concluded: "Silverstone was always going to be one of the toughest races of the year for both championships, due to the very big energy loads put through the tyres. But in actual fact we found that, if anything, wear and degradation were even below our expectations. Mixed conditions and varied temperatures made life especially difficult for the teams, as it was not always easy for them to compare their performance from session to session. As we have been accustomed to seeing this year, the GP2 feature race revolved around tyre strategy. The strategy chosen by Marciello was probably enough to win the race, but very good pitwork and a fast in-lap was enough for Mitch Evans to triumph, underlining once more the importance of getting the tyre changes exactly right." This year's GP2 season takes in 11 rounds and 22 races, while GP3 comprises nine rounds and 18 races. Both the GP2 and GP3 Series resume in Hockenheim, Germany, from 18-20 July.
***
Copyright-free videos, photos as well as latest media news are available for editorial use from: www.pirelli.com/f1pressarea (registration required). Follow us on Twitter @Pirelli_Media and @pirellisport or Facebook: Pirelli Motorsport. Please also visit the Pirelli website for more information on the company: www.pirelli.com. For further information please contact: Roberto Boccafogli • +39 335 125 6694 • roberto.boccafogli@pirelli.com (Head of F1 Press Office) — Francescopaolo Tarallo • +39 334 684 4307 • francescopaolo.tarallo@pirelli.com (Head of Product and Motorsport Communication) Alexandra Schieren • +33 607 03 69 03 • alexandra.schieren@pirelli.com Anthony Peacock • +44 7765 896 930 • anthony@mediaticaworld.com