New features for the Diablo Super Biker application designed by Pirelli for bikers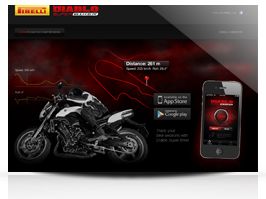 Today Pirelli released a new upgrade for the Diablo Super Biker app that allows all existing and future users who have already installed the application, as well as those who will install it in the future, to download and view the routes recorded with their mobile devices directly to their computers or iPads, making it easier to view them in greater detail and share them on social networks. All the users who already have the application will be able to check for the upgrade directly from their mobile device and the first time they use the app after installing the upgrade they will be asked to enter data in order to access the on-line site http://www.pirelli.com/diablosuperbiker where they will be able to view their routes on a monitor larger than the one on their mobile device.
Launched by Pirelli in August 2011, Diablo Super Biker is the application for two wheel enthusiasts who want to measure their performance in real time, whether on the track or the street. Downloadable from the App Store for iPhone and Google Play for Android, it is available in 7 languages (English, French, German, Italian, Japanese, Portuguese and Spanish) and it is compatible with any iPad, iPod Touch and iPhone (iPhone 4 for lean angle measurement) with operating system updated to at least version 4.2 and with Android OS based devices. This further upgrade of the application not only confirms Pirelli's commitment to offering its users improved products with innovative features, but also the continuous efforts by the company in the digital and social area: the app has been downloaded more than 100,000 times so far, averaging 328 downloads per day in the last two months. The official Pirelli Moto Facebook® page, launched at the beginning of 2012, has also grown consistently over the past months and now has more than 140,000 fans who proactively interact with Pirelli on a daily basis.