Pirelli aims for another drivers' title at Rally Due Valli as Renault Clio R3T makes debut
Pirelli is aiming for yet more success to continue its dominance of the Italian Rally Championship, which has seen the Milan-based firm collect every title in recent years. This includes the 2014 manufacturers' title recently, underlining the all-round performance of the Italian tyres against strong opposition on every surface.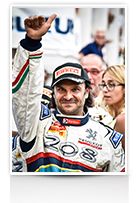 Paolo Andreucci is aiming
for an eighth drivers' title
Paolo Andreucci is aiming to clinch the very first driver's title this weekend for the all-new Peugeot 208 T16 R15, with Peugeot Italia having already won the teams' standings at the last round. The eighth and final round of the championship is the all-asphalt Rally Due Valli based in Verona, new to the main Italian series for this year. As well as Andreucci – Pirelli's most successful driver in Italy – Alessandro Nucita returns to competition in a Pirelli-equipped Peugeot 207 S2000. In the Junior championship, Stefano Albertini will drive his Peugeot 208 R2 on Pirelli tyres. An exciting debut will be made by the all-new Renault Clio R3T in Italy, which will be run by Renault Sport and equipped with Pirelli tyres. Pirelli also supplies both Renault single-make trophies: the Trofeo Clio R3 and Trofeo Twingo R2, in line with the company's philosophy of creating opportunities for young drivers. The Rally Due Valli begins on Friday October 10 in Verona and finishes on Sunday October 12, following 11 asphalt stages totalling 154 kilometres. Leading Pirelli drivers on Rally Due Valli Paolo Andreucci, currently seven points off the championship lead, is the top Pirelli runner for the Peugeot Italia Racing Lions team. The Pirelli line-up includes: Paolo Andreucci/Anna Andreussi (Peugeot 208T16) Andrea Nucita/Sara Cotone (Peugeot 207 S2000) Fabrizio Andolfi/Andrea Casalini (Renault Clio R3T) Mikko Pajunen/Jonne Halttunen
(Renault Clio R3T) Stefano Albertini/Silvia Mazzetti (Peugeot 208 R2) The tyres available The Italian firm will bring a wide range of tyres to cover different potential weather conditions. If conditions are dry, with high temperatures, the latest RX5C will be used. Also available is the RX7B for dry asphalt and low temperatures. For damp conditions the softer RX9 tyre will be used, with a compound better suited to even lower temperatures. If it rains, the new soft-compound RE7A is available, with its unique tread pattern intended to disperse water and prevent aquaplaning without compromising roadholding. Quotes Paolo Andreucci, Pirelli driver: "This is certainly going to be a very tricky rally; I've done it before but it's the most important event of the year now, with three of us fighting for the championship. I hope it's going to be a good fight and that we all get to the end. I'm going to be doing my very best and I know of course that we can rely on our tyres for this, thanks to all the good work we have done with Pirelli throughout the year and the selection of tyres we have for the type of asphalt this weekend. Anything can happen so it's going to be very exciting: I don't want to make any predictions." Terenzio Testoni, Pirelli product manager: "One of the biggest question marks surrounding this event is the weather, which is why we have brought our usual range of tyres that are capable of dealing with a very wide variety of conditions. We could see anything from bright sunshine to heavy rain. The RX tyre, designed to provide an instant response to all driver inputs, has proved a winning choice for Paolo before, but he has a very big fight ahead of him this weekend and we will be doing everything possible to support him. We also have the debut of the brand new Renault Clio R3T this weekend: an extremely significant car that has chosen to run on our tyres because of the advantages they bring." www.pirelli.com.
***
For more information about Pirelli, please contact Anthony Peacock on +44 7765 896 930 or anthony@mediaticaworld.com