Pirelli dominates rally competitions around the world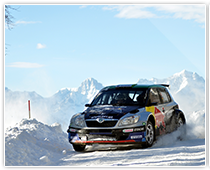 This year marked
Pirelli
's rally success story. The Italian company has indeed won several international competitions. Skoda driver Umberto Scandola claimed the
Italian Rally Championship
title. Peugeot achieved its fifth consecutive Italian Rally Manufacturers' title and the R2 championship with Andreucci; Renault won the Italian Junior Championship, Citroen the Production Rally Championship, Ford the TRA (Tarmac Rally Trophy) and Mitsubishi the Gravel Trophy for the R4-S2000 class. All the winning cars were equipped by Pirelli. Pirelli also won the
Tarmac Rally Championship
title in France, with Ford driver Maurin and locked out the podium of the
French Cup
obtaining an unprecedented first and second place with Ford and Peugeot. Pirelli tyres proved their competitiveness in other European competition as well as in the United Kingdom, Pirelli won 5 titles: the
BTRDA Rally Championship
, the Welsh Gravel Championship, the British Historic Rally Championship, the Irish Gravel Championship and the Scottish Rally Championship. It finished on the podium in the other two competitions: the RAC Historic Championship and the Irish Tarmac Rally Championship. In Germany, Skoda driver Gassner equipped by Pirelli won the ADAC Rallye Masters 2013. The Italian company won the
Swiss Rally Championship
with S2000 Peugeot driver Hotze, the Hungarian National Rally Championship with Kazàr, the Danish Rally Championship with Mitsubishi driver Dvanholt, the Austrian National Rally Championship with Skoda driver Baumschlager and the European Historic Championship with Porsche. It  recorded several victories in the category championships: in the Swedish Rally Championship with Ford for 4WD, Mitsubishi for Group N, Suzuki for 2WD and Toyota for the Junior category, in the Norwegian Rally Championship with Subaru for 4WD and in the Latvian Rally Championship with Ford Fiesta for 2WD.
Pirelli also targeted success in competitions outside Europe, winning the
FIA Asia-Pacific Rally Championship
in Australia and ranking second in the Rally America and first in the SP Category. Finally, in China Pirelli has already clinched the championship with the two Subaru drivers competing for the first place; meanwhile, in Turkey and Portugal the competition is still open.