Pirelli enjoys spectacular action at Silverstone
The fourth round of the inaugural GP3 series - equipped exclusively by Italian tyre firm Pirelli - took place at Silverstone over the weekend, on the British circuit's revised track layout for the first time. The GP3 series is one of the first international formulae to race on the latest track configuration, which features seven new corners. As a result, both the lap length and average speed have been increased.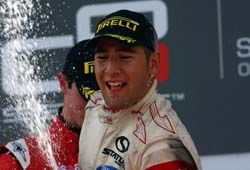 Pirelli's hard compound tyres made their debut on the track this year, after the Italian firm used medium compound rubber at the first two GP3 rounds in Barcelona and Istanbul, followed by the soft compound at Valencia. The new hard compound Pirelli PZero 13-inch tyre proved to be both fast and reliable at Silverstone despite a wide variety of weather conditions that accurately reflected the vagaries of the British climate. Saturday's race was held in dry and warm conditions, with temperatures in the region of 30 degrees centigrade. Esteban Gutierrez dominated the feature race by taking pole position for the second consecutive time and sealing his third win of the season by 3.6 seconds from Rio Haryanto and Nico Muller. On Sunday the weather was cloudy and much cooler with temperatures of about 18 degrees centigrade, increasing the time it took to get the hard compound Pirelli tyres up to ideal operating temperature. Daniel Morad took his first GP3 victory, while the crowds enjoyed a huge battle between Mirko Bortolotti and Gutierrez for the remaining podium places. The pair fought hard but fairly, with their Pirelli tyres allowing them both to push to the very limit. Pirelli's Racing Manager Mario Isola commented: "We're very pleased with the debut of our hard compound PZero GP3 tyre at Silverstone, particularly because it performed consistently within a very wide range of conditions. We were privileged to witness some of the best racing we have seen all year, with the battle between Mirko and Esteban forming a special highlight. Interestingly there was a lot of carbon fibre debris on the track this year, which meant that we saw a number of tyres that had suffered deep cuts to the tread pattern. Despite this, the tyres performed perfectly: underlining the reliability as well as the performance of our PZero rubber." At the halfway point of the season Gutierrez leads the championship with 51 points while his ART team mate Alexander Rossi is back up to second on 25 points. The ART squad also leads the teams' championship. The next two races of the eight-round GP3 series take place at the German Grand Prix in Hockenheim from July 24-25. Pirelli was recently confirmed as the exclusive tyre supplier to Formula One next year, along with GP2 and GP3. In this way, future generations of drivers will benefit from a Pirelli-backed ladder of talent designed to take them all the way to the very top of the sport.