Pirelli finishes inaugural GP3 season at home with a flourish
The first season of the GP3 Series, exclusively supplied by Pirelli, comes to an end at Monza in Italy this weekend after eight rounds of thrilling races all over Europe. From start to finish, the all-new championship has showcased close competition on Pirelli's PZero tyres. With GP3 heralding Pirelli's return to Formula One next year, the legendary Monza circuit close to Pirelli's headquarters in Milan is a fitting venue to conclude the first season of the championship. The GP3 Series is designed as a feeder formula for GP2, which will also be supplied by Pirelli from 2011 onwards in a three-year deal. Monza is steeped in history, having first hosted the Italian Grand Prix in 1922. Now the track will write another fresh chapter in motorsport by setting the scene for the conclusion of the inaugural drivers' and teams' titles in GP3. Once again, 30 ambitious drivers in identical 280-horsepower cars will do battle for supremacy on one of the most prestigious circuits on the calendar, in front of the most influential people in motorsport.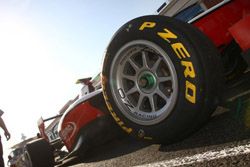 The characteristics of Monza reward bravery and commitment, as so much of the 5.993-kilometre lap is spent at full throttle. Because of the long straights, the cars run with low downforce, meaning that grip is at a premium in the corners and drivers frequently experience understeer. Once again Pirelli will use its medium-compound 13-inch PZero tyre at Monza, just as was the case at the last round in Spa two weeks ago. This tyre has proved its performance and adaptability under a wide range of conditions, from hot weather to heavy rain. In early September, most conditions are possible in Monza although the weather is expected to remain dry and warm. For Pirelli, the Monza races represent a triumphant homecoming that celebrates the Italian company's return to the top level of single-seater racing for the first time in 20 years. Mexican driver Esteban Gutierrez is favourite to lift the GP3 title in Italy, together with his ART team, bringing the series to an exciting conclius. Pirelli's Racing Manager Mario Isola commented: "It's obviously a huge pleasure and privilege for us to be racing at home, particularly after such a successful debut season for the GP3 Series. The fact that the championship is still up for grabs on the final round just goes to show how competitive it has been. Our medium-compound PZero tyres have demonstrated their versatility in the past, and with Monza taking in quite a wide variety of parameters and possible weather conditions, we're confident that it is the best choice." Practice for GP3 takes place on Friday 10 September at 1650 with qualifying and race one at 0845 and 1720 respectively on Saturday 11 September. The second race takes place at 0925 on Sunday 12 September, with both races lasting half an hour.