Pirelli is motocross world champion with Herlings & Cairoli
In both off-road classes KTM have wrapped up titles with one round to spare giving Pirelli their 58th championship in motocross. Mission complete for Antonio Cairoli and Jeffrey Herlings, who locked up FIM World Championships in MX1 and MX2 respectively with one round to run and thanks to the Pirelli Scorpion MX. Their success – with GP victory in Italy – crowned immense seasons for both in 2012 with the Sicilian and Dutchman ruling their classes more or less from the first round. Cairoli hit the mark with his fourth consecutive double moto triumph that allowed him to celebrate his sixth title and draw level with Belgian Joel Robert as the second most decorated rider in the history of the sport and trailing Stefan Everts who boasts ten crowns.
Racing with Scorpion MX MidSoft 32 front and rear – the choice of other Scorpion MX riders - Cairoli was able to beat Frenchman Christophe Pourcel in both motos across the rough Faenza soil and confirmed his overall success for 2012 as title rival Clement Desalle walked the third step of the podium.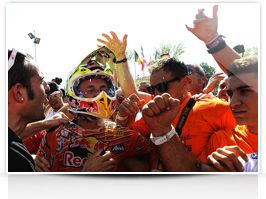 Jeffrey Herlings also did the double in MX2 and was comfortably ahead of Tommy Searle and Jeremy Van Horebeek at both times of asking. "The success of Cairoli and Herlings reaffirms the quality of the Scorpion MX," commented Pirelli Racing Service Manager Giovanni Gatti. "Thanks to those combinations we were able to reach a total of 58 World Championships. This season they have dominated every kind of track from soft mud to sand to hard-pack and wet conditions and we've taken 27 of the 30 motos in MX1 and all 30 in MX2. This is better than we could have hoped for and proves the performance of our tyres."
As if that wasn't enough the Scorpion MX also placed Pirelli on the top step of the podium in the European 125cc two-stroke championship with Italian Simone Furlotti defeating Pauls Jonas and South African Nicholas Adams. Success was also evident across the Atlantic with the final round of the AMA Women's championship falling into the hands of 2012 FIM World Championship number one Kiara Fontanesi.
The sixteenth and last event of the Grand Prix calendar will take place on September 23rd at Teutschenthal; a short distance from the city of Halle. MX1 Overall Classification:
| | | | | |
| --- | --- | --- | --- | --- |
| 1. | Antonio Cairoli | KTM | Red Bull KTM Factory Racing | |
| 2. | Christophe Pourcel | Kawasaki | Team CP377 | |
| 3. | Clement Desalle | Suzuki | Team Rockstar Energy | |
| 4. | Gautier Paulin | Kawasaki | Team KRT | |
| 5. | Ken De Dycker | KTM | Red Bull KTM Factory Racing | |
MX1 Championship standings:
| | | | | |
| --- | --- | --- | --- | --- |
| 1. | Antonio Cairoli | KTM | p. 642 | |
| 2. | Clement Desalle | Suzuki | p. 554 | |
| 3. | Gautier Paulin | Kawasaki | p. 502 | |
| 4. | Christophe Pourcel | Kawasaki | p. 496 | |
| 5. | Ken De Dycker | KTM | p. 478 | |
MX2 Overall Classification:
| | | | | |
| --- | --- | --- | --- | --- |
| 1. | Jeffrey Herlings | KTM | Red Bull KTM Factory Racing | |
| 2. | Tommy Searle | Kawasaki | Team Floride | |
| 3. | Jeremy Van Horebeek | KTM | Red Bull KTM Factory Racing | |
| 4. | Jordi Tixier | KTM | Red Bull KTM Factory Racing | |
| 5. | Arnaud Tonus | Yamaha | Monster Energy | |
MX2 Championship standings:
| | | | | |
| --- | --- | --- | --- | --- |
| 1. | Jeffrey Herlings | KTM | p. 622 | |
| 2. | Tommy Searle | Kawasaki | p. 557 | |
| 3. | Jeremy V. Horebeek | KTM | p. 519 | |
| 4. | Jake Nicholls | KTM | p. 387 | |
| 5. | Joel Roelants | Kawasaki | p. 367 | |