Pirelli PZero: the racing world at Pitti Uomo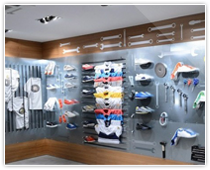 To mark the 82nd edition of Pitti Uomo, last June in Florence, PZero chose an evocative location to present its new men's collection for spring-summer 2013 that draws inspiration from the beauty of motor sport. Shoes, bomber jackets and polo shirts with oversized logos, patches and references to the motor sport world were presented at the Fortezza da Basso workshop, in a paddock inspired by the hospitality that Pirelli uses for international competitions.
Taking its place on the podium amongst rims and rubberized equipment and the new BMW Sport scooter on display for the occasion, was the clothing and accessories range: driver shoes, polo shirts, biker and box jackets, united by the leitmotiv of the legendary 80s-racing world. Then of course, there were the T-shirts with prints inspired by Pirelli pin-ups from the 50s reinterpreted by the American artist and illustrator, Adam Haynes.