Pirelli SCORPION™ MX32™ without rival at the Gran Prix of Leon of the FIM Motocross World Championship
In Mexico Romain Febvre dominates the MXGP class and hits his seventh victory of the season while Thomas Covington wins for the first time in MX2 and Tim Gajser stretches his lead in the championship to 18 points over Pauls Jonass.
The penultimate round of the FIM Motocross World Championship was hosted by Leon in Mexico with the circuit located in a flat parkland area of Guanajuato region and characterized by hard-pack ground. The heavy rain that fell during the night turned the track into a heavy and slippery muddy surface. It was a Grand Prix that Pirelli's riders managed to tame thanks to the SCORPION™ MX32™, which even in tough conditions showed great effectiveness and versatility. An amazing Romain Febvre continues to top the MXGP class and dominated the GP from Saturday's qualifying race. With the world title in his pocket and with no pressure to bear the Frenchman was perfectly assisted by a SCORPION™ MX32™ 80/100-21 front and 110/90-19 rear tyre and won both races, posting his seventh win of the season. An excellent fourth place was secured by teammate Jeremy Van Horebeek who used the same Pirelli selection as the winner. A good performance also for Glenn Coldenhoff, fifth overall in a difficult and demanding race. Pirelli grabbed overall victory in the MX2 class that was won, for the first time in his career, by Thomas Covington. The American was fault-free in the two heats and thanks to SCORPION™ MX32™ 80/100-21 front and 110/90-19 rear finished fourth in the first moto and won the second. The same Pirelli tyres allowed Tim Gajser to classify in second place and to consolidate his lead in the standings with just one Grand Prix to go. Fourth place went to Pauls Jonass, winner for the first time of Qualification and the first moto but who was a victim of a spectacular crash in the second race that slowed down his pace and relegated him to a final slot of thirteenth position. Gajser and Jonass - both Pirelli riders and separated by just 18 points in the ranking - are the only riders still in the running for the MX2 title.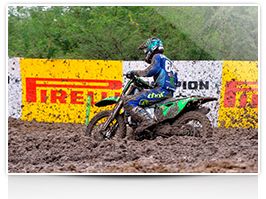 With the trip to Mexico done-and-dusted this week the riders will move to Glen Helen, USA, for the last round of 2015 season. Results: MXGP race 1 1. FEBVRE Romain (FRA) 2. SIMPSON Shaun (GBR) 3.BOBRYSHEV Evgeny (RUS) 4.PAULIN Gauiter (FRA) 5. COLDENHOFF Glenn (NED) MXGP race 2 1. FEBVRE Romain (FRA) 2. SIMPSON Shaun (GBR) 3.BOBRYSHEV Evgeny (RUS) 4. VAN HOREBEEK Jeremy (BEL) 5. COLDENHOFF Glenn (NED) MX2 race 1 1. JONASS Pauls (LAT) 2. ANSTIE Max (GBR) 3. PATUREL Benoit (FRA) 4. COVINGTON Thomas (USA) 5. GAJSER Tim (SLO) MX2 race 2 1. COVINGTON Thomas (USA) 2. GAJSER Tim (SLO) 3. LIEBER Julien (BEL) 4. GUILLOD Valentin (SUI) 5. PATUREL Benoit (FRA) GP overall: MXGP 1. FEBVRE Romain (FRA) 2.SIMPSON Shaun (GBR) 3.BOBRYSHEV Evgeny (RUS) 4. VAN HOREBEEK Jeremy (BEL) 5. COLDENHOFF Glenn (NED) MX2 1. COVINGTON Thomas (USA) 2. GAJSER Tim (SLO) 3.PATUREL Benoit (FRA) 4. JONASS Pauls (LAT) 5. ANSTIE Max (GBR) Championship overall: MXGP 1. FEBVRE Romain (FRA) p.688 2.PAULIN Gautier (FRA) p. 566 3.BOBRYSHEV Evgeny (RUS) p.539 4. SIMPSON Shaun (GBR) p. 481 5. NAGL Maximilian (GER) p.442 6. VAN HOREBEEK Jeremy (BEL) p.426 MX2 1. GAJSER Tim (SLO) p.556 2. JONASS Pauls (LAT) p.538 3.ANSTIE Max (GBR) p.506 4.GUILLOD Valentin (SUI) p.475 5. SEEWER Jeremy (SUI) p.467 6. HERLINGS Jeffrey (OLA) p.423