Pirelli Triumphs at 24 Hours of Montmeló
Italian tyre brand takes three wins and a second in different categories
Pirelli completed a weekend of triumphs at the 17th editionof the 24 hours of Catalunya, held at the Catalan circuit this past weekend under constantlychanging climate conditions, seeing both intermittent torrential rains and intense sunlight andhigh temperatures. Riders who were equipped with Diablo Superbike tyres from the Italianbrand won first place in three of the four categories contested, and a second, dominating thegeneral race classification. This is just a sampling of the excellent performance of Pirelli tyres that, thanks to an incrediblehigh pace set by the winning team of Yamaha Folch Endurance, helped set a new circuit recordfor this test, 749 laps in 24 hours, beating the previous record set in 2009 by one lap. Just as it happened last year and for the 7th consecutive year, the Yamaha Folch Endurancerepeated its success in Barcelona with the overall victory as well as second place. The CatalanPolice team took victory in Open Superbike class, ranking fifth overall, while in the Stock 600,Team Esperanza finished at the top of the category. Additional triumph came from the AventureMoto Détente team who managed to close a second place in the Stock 1000 class.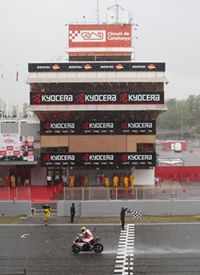 During the weekend, Pirelli, in his role as tyre supplier offered these teams two front and tworear Diablo Superbike slicks in 17", medium and hard compounds, a model used as the officialtyre Superbike World. As well, the torrential rains during the race required the use of DiabloRain tyres, medium compound front and rear. In total, Pirelli supplied teams with up to 600tyres in addition to the technical support of six service personnel to provide tyre changes.
Pirelli wishes to thank the Folch Endurance team, Folch Endurance 2, Catalan police, Stop Aventure Moto, Mas Moto, Team 31, Team Hope and the BCM Racer Team for their confidence in the Pirelli brand and the efforts made during this competition.