Pirelli tyres rule the roost in Germany
The 13th round of the FIM Motocross World Championship sees further domination by Pirelli Scorpion MX
Further proof of the superiority of Pirelli Scorpion MX tyres in the FIM Motocross World Championship was seen at the Grand Prix of Germany as the brand filled the top seven positions in the premier MX1 class and swept the entire podium of the MX2 category. The short and Supercross style layout placed inside the Lausitzring motorsport arena was home in MX1 class to the latest success for Antonio Cairoli who scooped his fourth consecutive victory by finishing second to Clement Desalle in the first moto and then reasserting his authority over the Belgian factory Suzuki rider by drilling his works KTM to first place in the second race and therefore overall honours. Desalle enjoyed the consolation of moving up to second in the championship standings. In both outings on the hard-packed but rough sand the duo relied on the combination of Pirelli Scorpion MX MidSoft 32F front and Scorpion MX Soft 410 rear; a selection popular with other Pirelli representatives in Germany. The MX1 rostrum was rounded-off by Ken De Dycker ahead of Tommy Searle, Kevin Strijbos, David Philippaerts and Joel Roelants all earned in part thanks to Pirelli Scorpion MX.
MX2 continues to witness Jeffrey Herlings racking-up his undefeated Grand Prix numbers, and the thirteenth celebration of 2013 was also his eleventh double moto haul of the campaign. The Dutch KTM star is now within touching distance of his second world title and sprayed champagne at the Lausitzring accompanied by team-mate Jordi Tixier in second and podium debutant Glenn Coldenhoff in third place who barely made it to the post-race ceremony due to fatigue.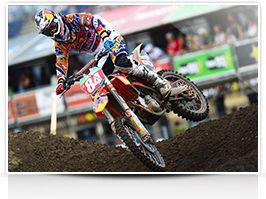 Bad luck for Monster Energy Yamaha's Christophe Charlier. The Corsican was runner-up in the first moto but stopped with a damaged radiator in the second after charging back from last to twelfth in the wake of an opening lap fall.
Round fourteen will take place this weekend – August 4th – at the circuit of Loket for the Grand Prix of Czech Republic.
Grand Prix of Germany, Lausitzring: Temperature 35°, Humidity 67%

MX1 Overall Classification:
1. Antonio Cairoli
2. Clement Desalle
3. Ken De Dycker
4. Tommy Searle
5. Kevin Strijbos
KTM
Suzuki
KTM
Kawasaki
Suzuki
Team Red Bull Factory
Team Rockstar Energy
Team Red Bull Factory
Team Kawasaki CLS
Team Rockstar Energy

MX1 Championship standings after 13 rounds:
1. Antonio Cairoli
2. Clement Desalle
3. Ken De Dycker
4. Gautier Paulin
5. Kevin Strijbos
KTM
Suzuki
KTM
Kawasaki
Suzuki
p. 611
p. 503
p. 479
p. 465
p. 397

MX2 Overall Classification:
1. Jeffrey Herlings
2. Jordi Tixier
3. Glenn Coldenhoff
4. José Butron
5. Max Anstie
KTM
KTM
KTM
KTM
Suzuki
Team Red Bull Factory
Team Red Bull Factory
Team Standing Construct
Team Silver Action
Team Rockstar Energy

MX2 Championship standings after 13 rounds:
1. Jeffrey Herlings
2. Jordi Tixier
3. José Butron
4. Christophe Charlier
5. Glenn Coldenhoff
KTM
KTM
KTM
Yamaha
KTM
p. 642
p. 483
p. 416
p. 365
p. 362