Pirelli wins the 2010 Best Product Innovation Award
Ducati identifies Pirelli as the supplier for the past year who has delivered the most highly innovative products On November 7, Pirelli was awarded the prestigious 2010 Best Product Innovation Award, an award offered by Ducati to their most innovative supplier of the year. As a way of determining who receives this coveted award, the Italian motorcycle manufacturer utilizes a committee consisting of members of its Purchasing, Technical, Quality and Logistics departments, who then analyze the performance of its suppliers from all aspects under evaluation. In particular, Pirelli has been recognized for the excellent work in its development of the Scorpion Trail tyres for the Ducati Multistrada and the Diablo Rosso II in its new 240/45 ZR17 size for the Ducati Diavel. This award makes us proud of our ability to support the partners with innovative solutions that contribute to the success of both their bikes and our products, said Senior Vice President of Pirelli Moto, Uberto Thun upon receipt the award at the ceremony with Piero Misani, Director of R&D and Industrial of the Motorcycle business unit.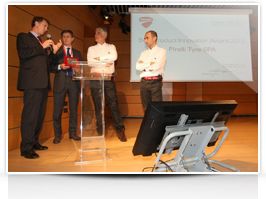 This award confirms the excellent cooperation between the Borgo Panigale factory and the Research and Development staff within Pirelli, continued in 2011 with the development of the new street version Diablo Supercorsa SP in a 200/55 ZR17 size which will be fit as the original equipment tyre on the new Ducati 1199 Panigale. For further information please visit pirelli.com, Facebook facebook.com/pirelli or Twitter @Pirelli_Media.