Scorpion MX Rules proceedings at the Grand Prix of Belgium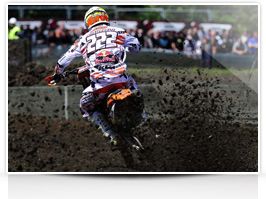 Pirelli riders fill the top four slots in both MX1 and MX2 at round eight in Wallonie After missing out on victory in Portugal the previous week Antonio Cairoli returned to the top step of the podium in emphatic style at the Grand Prix of Belgium by winning both motos and consolidating his position as clear leader in the FIM MX1 Motocross World Championship standings. It was a triumphant day for the works KTM rider who beat fellow opponents using the Scorpion MX MidSoft 32; the following three riders in the classification also chose the strengths of the tyre on the soft and rutted mud. All the Pirelli racers opted for the compound for the tacky black dirt at the circuit located on the outskirts of Bastogne and after the venue had been almost washed out with showers on Saturday,
Cairoli beat factory Suzuki rider Clement Desalle, who with two third positions finished as runner-up overall in front of a noisy and appreciative home crowd. In third was Christophe Pourcel, with a 2nd and 5th in the two motos also giving the Frenchman the same ranking in the championship points table at the halfway stage of the season. Fourth overall in Belgium was the surprising Kevin Strijbos using a stock bike with special engine components.
MX2 was once again in the grasp of title rivals Jeffrey Herlings and Englishman Tommy Searle both respectively steering their works KTM and Floride Pro Circuit Kawasaki with Scorpion MX MidSoft 32. Both riders each posted scorecards of a win and second position and Searle celebrated victory thanks to his second moto triumph. With the same set of tyre choice Jeremy Van Horebeek was 3rd and Joel Roelants collected 4th.
The FIM Motocross World Championship will now pause for a week and then return to the track on July 1st for the Grand Prix of Sweden.
MX1 Overall Classification:
| | | | | |
| --- | --- | --- | --- | --- |
| 1. | Antonio Cairoli | KTM | Team Red Bull Factory | |
| 2. | Clement Desalle | Suzuki | Team Rockstar Energy | |
| 3. | Christophe Pourcel | Kawasaki | Team CP377 | |
| 4. | Kevin Strijbos | KTM | Team HM Plant | |
| 5. | Gautier Paulin | Kawasaki | Team KRT | |
MX1 Championship standings:
| | | | | |
| --- | --- | --- | --- | --- |
| 1. | Antonio Cairoli | KTM | p. 345 | |
| 2. | Clement Desalle | Suzuki | p. 298 | |
| 3. | Christophe Pourcel | Kawasaki | p. 292 | |
| 4. | Gautier Paulin | Kawasaki | p. 289 | |
| 5. | Ken De Dycker | KTM | p. 237 | |
MX2 Overall Classification:
| | | | | |
| --- | --- | --- | --- | --- |
| 1. | Tommy Searle | Kawasaki | Team Floride | |
| 2. | Jeffrey Herlings | KTM | Team Red Bull Factory | |
| 3. | Jeremy V. Horebeek | KTM | Team Red Bull Factory | |
| 4. | Joel Roelants | Kawasaki | Team Floride | |
| 5. | Arnaud Tonus | Yamaha | Team Monster Energy | |
MX2 Championship standings:
| | | | | |
| --- | --- | --- | --- | --- |
| 1. | Jeffrey Herlings | KTM | p. 364 | |
| 2. | Tommy Searle | Kawasaki | p. 340 | |
| 3. | Jeremy V. Horebeek | KTM | p. 308 | |
| 4. | Joel Roelants | Kawasaki | p. 238 | |
| 5. | Jordi Tixier | KTM | p. 217 | |